What is Social Media Marketing?
---
---
Reading Time: 6 minutes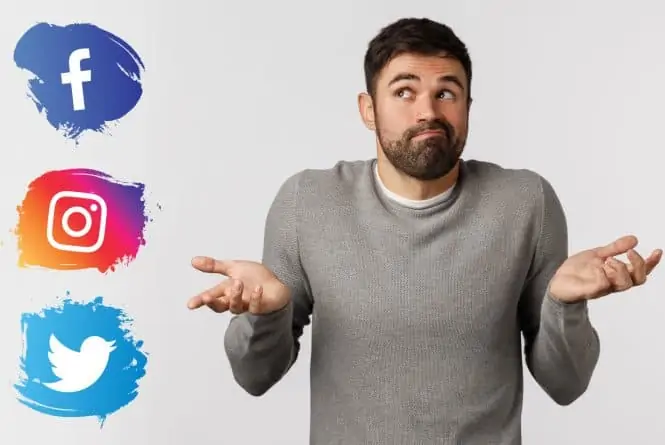 If your brand isn't on social media yet, it's safe to say you're missing out. For businesses, companies and organisations everywhere, social media marketing is the perfect opportunity to grow an audience and build brand awareness.
In simple terms, social media marketing is the use of online platforms to connect with your target audience. A brand presence is usually established on social media for the means of driving website traffic and boosting sales. However, in recent years the popularity of social media has grown to tremendous heights. In fact, it's become a permanent fixture in our professional and personal lives. With millions of users worldwide, platforms such as Facebook and Instagram have become a means by which both big and small brands alike can connect with their customers on a deeper level and foster a global community.
Do I need social media marketing?
When social media first kicked off, businesses shared their content as a way of generating traffic to their website and driving sales. However, in recent years social media has matured far beyond just a platform to post content. It's become a means by which businesses can cut through the noise. Powerful analytic and engagement tools now allow brands to connect with their target audience on a more personal level. With a little consistency and creativity, businesses can establish brand visibility and awareness, and foster a community online.
A business that wants to analyse its performance on its chosen social media platforms for example would look at its reach and engagement. Another business that was concerned about its public image might monitor public conversations and threads about the brand. They might even respond to relevant mentions. Other businesses looking to reach a specific audience might run paid advertisements targeted at specific demographics. The possibilities are seemingly endless.
These days with social media such an enduring part of our lives, it is crucial your business establishes an online presence. Social media platforms allow brands to connect with their customers, take a more personable approach to their marketing, increase brand awareness, visibility and reach, and boost leads, conversions and sales.
How do I get started on social media?
At the moment, the major social media platforms or big three are Facebook, Instagram and Twitter. There's also professional networking site LinkedIn, image-sharing platform Pinterest and the ever-elusive Snapchat. The platforms your brand establishes a presence on will depend on the needs of your business, and what you hope to achieve. However, before you dive right in and start posting, it's important you take a step back and evaluate the bigger picture.
Strategy
Before doing absolutely anything on social media, it is of paramount importance that you think about your goals. Ask yourself what you hope to achieve on social media, and which platforms you want to focus on. There is little point in investing time and energy into a platform that won't reach the right people. It's better to choose a few platforms that will reach your target audience.
Content creation is also a crucial element of your social media marketing strategy. To implement a customer-centric plan that will engage with your audience, attempt to see things from the perspective of your typical customer. What kind of content would they like to see? What would they engage with? Is the content educational or entertaining? Before posting on any platform, create a content plan that centres around the needs and wants of your target audience. After a few months, you'll begin to see trends in your analytics. By analysing these results, you'll be able to see what content is working – and what isn't.
Engagement
As your following on social media increases, conversations around your brand and other engagement with your content will grow. Your followers and their friends and family will comment and tag each other on your posts. They might even tag you in their own content and perhaps even message you directly. It's crucial to stay on top of their activity and engage with your audience accordingly.
It's also important to monitor posts where your audience may be talking about your brand without necessarily tagging you. You can do so by monitoring your listening and engagement tools, or simply searching for yourself. By actively monitoring conversations about your brand, you can resolve negative comments as well as actively engage with positive content.
Paid advertising
As your social media following grows, you might consider paid advertising. Paid advertising allows brands to target specific demographics and reach a wider audience than just those following you. Demographics include gender, age, interests and behaviours. For example, if you own an organic clothing business for young children and babies, you might choose to target young mothers between the age of 25 and 30 with an interest in ethical children's toys. At the end of the day, your paid advertising will depend on the unique specifications of your product and/or service, as well as your target audience.
Priority Pixels Guide to Social Media Marketing
Social media marketing with Priority Pixels
With the continually evolving digital landscape forever a looming presence in the lives of well, just about everyone, social media marketing has cemented itself as a crucial slice of a business's marketing strategy. Traditional marketers may see social media as unnecessary fluff. However, it's the reality of our modern world. Without a presence on digital platforms like Facebook and Instagram, your brand will without a doubt be missing out.
If you're feeling overwhelmed by social media and need a little advice, you could always contact your local social media agency. A professional agency will be able to analyse your brand. From there, they'll build a strategy that will drive the right kind of traffic.
Priority Pixels has been building bespoke digital marketing strategies since 2016. Our close-knit team of digital experts and social media aficionados boast a wealth of experience in copywriting, social media management and content marketing and creation. If you're keen to chat about the social media presence for your brand or are looking to expand your digital marketing strategy, then contact us today.
FAQs
What is a social media marketing strategy?
Essentially, social media marketing is the creation of digital advertising and marketing strategies for use on social media channels and networks. During this process, marketers will create tailored content for each platform that aims to drive engagement, promote your business and build brand awareness and visibility.
This bespoke content is also tailored to the needs of your target audience. Social media marketing is all about fostering a community online and helping your customers understand your brand a little better. Social media marketing is often seen as a way of making your brand more personable and friendly.
How to market on social media?
These days, social media marketing is no longer an option. It is absolutely crucial for large and small businesses alike to get online and start connecting with their target audience.
Before you start posting anything, write down your goals and aspirations. What do you hope to achieve with your social media? Do you want users to click through to your website and order your product and/or service? Or are you hoping to foster a community and boost engagement with your brand?
Once you've laid out your goals, social media really is about consistency and relevancy. Employ a customer-centric approach to your marketing by asking yourself what your customers would like to see and engage with. If you were a member of your target audience what would you like to see? What kind of content would you engage with?
Let's get social
Kickstart your social media by:
Creating profiles on multiple platforms – Remember to only sign up to relevant platforms.
Defining your marketing goals – What do you hope to achieve?
Posting consistently – Make sure you're posting relevant content at least once a day during the working week.
Giving your customers a reason to follow you – This is where your customer-centric content comes in. Make sure you are posting content your target audience wants to see.
What is social media?
Social media is an online network that facilitates digital connections between people and allows the sharing of thoughts, ideas and information through virtual communities. It's a collective term for a variety of different websites and applications. The most well-known networks are Facebook, Instagram, Twitter and LinkedIn.
How many people use social media?
4.48 billion people worldwide are currently on social media with an average of 6.6 platforms each.
Perhaps most awe-inspiring, if someone signed up to social media at 16 and lived till they were 70, they would spend an average of 5.7 years of their life scrolling on their chosen platforms. Freaky huh?