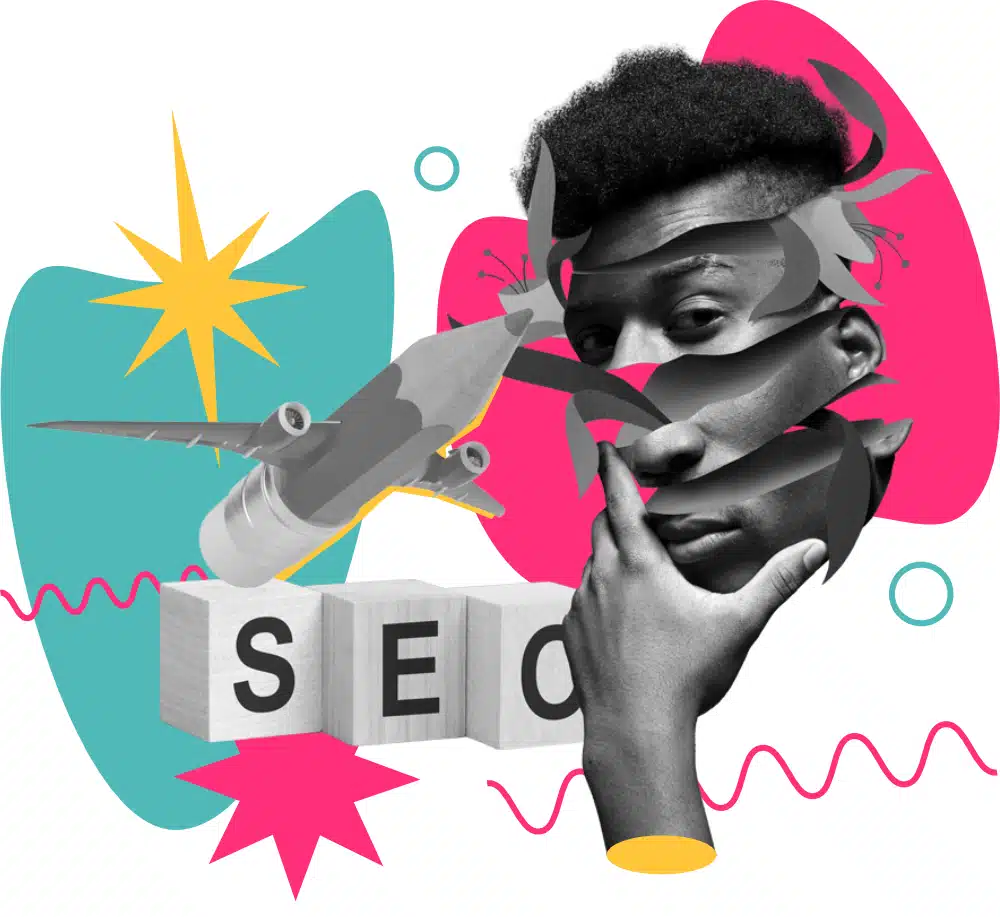 What is search intent?

Alongside keyword research, we take a look at 'search intent'. This refers to what users are really looking for when they type a search into Google.

Customer search intent can be broken down into four categories, including Informational (the user is seeking answers to a question), Navigational (the user is looking to find a specific website), Transactional (the user is looking to buy something from a specific website), Commercial (the user is looking to buy something, but hasn't decided on where to buy from just yet).

Understanding customer search intent can help us to develop a keyword strategy which ensures that your business is ranking for specific search terms, depending on the service or product you provide.
What is keyword research?
Keywords are words or phrases that, when typed into a search engine, you want your website to be shown as a result for. Keyword research simply means finding out what keywords you are already being found for, and any high traffic terms related to your business.
Undertaking keyword research allows you to see exactly what your target audience is searching for, how many times words and phrases related to your business are searched for and what information those searchers are looking for. This is possibly one of the best things you can to do help your SEO. It allows you to see how your target audience behaves online and how popular phrases related to your business are.
There are different tools that you can use to help find out which keywords are relevant to your business. Whilst you may have a few keywords already in mind, you can find others that are related to those phrases. These keywords will then form the basis of the content that is being put onto your website. Whether its service or product pages or using them to create blog content. Using your keyword research to create content will help to improve your SEO score and increase your impressions and engagements.
An SEO agency will be able to find the search terms you are most commonly found for and suggest other phrases to create content around.
How do you do keyword research?
There are plenty of online tools you can employ when researching keywords. However, if you plan on doing your own research then it's best to use customer-centric strategies. If you were your customer, what would you search for online to find your business or organisation? Try and see things from your target audience's perspective.
For example, you may be selling handmade sandals crafted from sustainable vegan leather. You might search for 'ethical sandals' or 'vegan sandals sustainable'. Your aim should be to find keywords with relatively low competition and a high search rate. That way, you're more likely to nab the top spot on search engines.
After pinpointing your keywords it's important you narrow your research down and find a single keyword with low competition that still has a relatively high search rate. This is your focus keyword and will be a phrase or single word your target audience is likely to search for.
Once you've nailed down your focus keywords, you'll need to research your latent semantic indexing (LSI) keywords. LSI are searches related to your focus keyword. The easiest way to find them is to search your focus keyword and scroll right to the foot of your page. You'll find them listed as 'related searches.'
Why is keyword research important?
Keyword research is the process of understanding what your target audience is searching for online when looking for content including products and services. It's the foundation of search engine optimisation and is a crucial slice of your digital marketing pie.
No matter how hard you try, if you're not writing the kind of content people are searching for online your website will not generate traffic.
What makes a good keyword?
There is plenty to consider when deciding on your keywords.
Volume – The search volume of a keyword is how many times it has been searched on a search engine such as Google or Bing. There is little point in optimising your online content with keywords no one is looking for, so make sure you do your due diligence and use keywords with a high search volume.
Relevance – Your keywords need to be relevant to the content on your site. As the overall goal of your digital marketing strategy is to drive your target audience to your website, there is little point in using irrelevant keywords that will only drive the wrong kind of traffic.
Value – How you measure your success will be unique to you and your website so it's important you research and choose keywords that will get the results you want. You want engagement and conversions, not browsing and bouncing.
Competition – Be realistic. There is little point in choosing keywords with high search volume and high competition. Doing so runs the risk of your website being buried in a sea of other results. Choose keywords you could realistically rank for in SERPs and optimise accordingly.
Your keywords need to meet these four criteria. If any are missing, you run the risk of driving the wrong kind of traffic – or potentially even failing to drive any traffic at all.
How do you use keywords effectively?
Search engines use keywords when filtering results for users. As a result, it's absolutely crucial you know how to use your keywords and optimise your content correctly. This is for the purpose of your website being found, indexed and ranked.
How many keywords should I use on a page?
How many keywords you use on a page comes down to the unique specifications of your website and the page itself. In your keyword research, aim to have between 5 – 10 words. There are three different types of keywords:
Primary – The main focus of your content. The title and ensuing content for a page should reflect this.
Secondary – Secondary keywords are complementary to your primary keyword. Find and utilise a handful of secondary keywords which relate to your main focus.
Additional – Any other keywords that are phrased or spelt differently to your primary and secondary keywords.
You should use your keywords throughout your content, including within your main title, URL, meta title and meta description.
It's also important to use your keywords naturally. Search engine algorithms will be able to pick up on any unnatural keyword stuffing and will penalise you accordingly.
How many times should you use a keyword on a page?
Based on the length of your page content, you should be using one primary keyword, anywhere from 1 – 3 secondary keywords and 1 – 4 additional keywords.
What is the best keyword research tool?
Whether you've gone back to an old high school blog or developing a content strategy for an exciting new website, good quality keyword research is one of the most effective ways to attract consistent, high-quality traffic to your wensite.
There are plenty of keyword research tools online. We recommend SEMRush and AHrefs Keyword Explorer.
What are long-tail keywords?
Long-tail keywords are searches that only receive a small number of searches per month. They tend to be longer, full sentences with a high conversion rate and a low search volume.
Long-tail keywords got their name from their spot on the search demand curve. While keywords with a high search volume will be at the head of the curve, there is a significant number of keywords at the tail with less search volume and as a result, less competition.
We're ready to help you
We know how daunting the digital world can be; whatever your project, no matter how big or small, we're here to help. Book a call or drop us an email and we can discuss your exact requirements.
Start your project