Enhancing Social Engagement for Crucial NHS Recruitment
---
---
Reading Time: 1 minute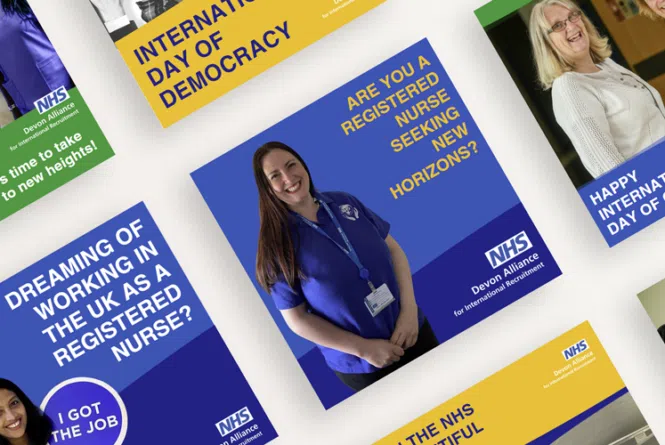 Our team at Priority Pixels are delighted to be working with Devon Alliance, who hire healthcare professionals from around the world for the NHS in Devon. Their social media was managed in-house, but the staff didn't have the expertise and time to spend on growing their following. Devon Alliance were looking for fresh ideas, creative strategic thinking, a consistent look, and someone to manage their social media platforms – Facebook, Instagram, Twitter, and LinkedIn.
That's where we stepped in. We began by brainstorming ideas relevant to their target audience, then creating and scheduling the first month's social media content. Once this was approved, we continued our relationship by creating and scheduling further monthly content. We meet once a month to discuss what has and hasn't worked well, keeping their social channels evolving and growing. With social media management, our skilled team run through reports and social media statistics. As part of our work, we handle community management which improves relationships and supports brand advocacy. Due to the success of our work, Devon Alliance have now asked us to run their TikTok account going forward.
Over the past two years, Devon Alliance have effectively recruited over 1000 internationally educated nurses across Devon hospitals. They also recruit care staff into care homes and domiciliary care services. Representing six NHS Trusts, they have vacancies for registered nurses to live and work in the UK. These nurses are specifically recruited for the NHS in Devon.
We've really enjoyed working with Devon Alliance to enhance brand awareness and increase their social media following. This has led to more nurses moving to Devon to work for the NHS. Devon Alliance are growing and starting to expand across the UK, encouraging more qualified nurses to live and work here.
If you'd like to learn more about the work we've done for Devon Alliance, click here to view the case study. If you are looking for support with your social media or web development, we'd love to help. Give our team a call today on 01626 245061 or email us at hello@prioritypixels.co.uk.