This is Why You Need a WordPress Developer
---
---
Reading Time: 5 minutes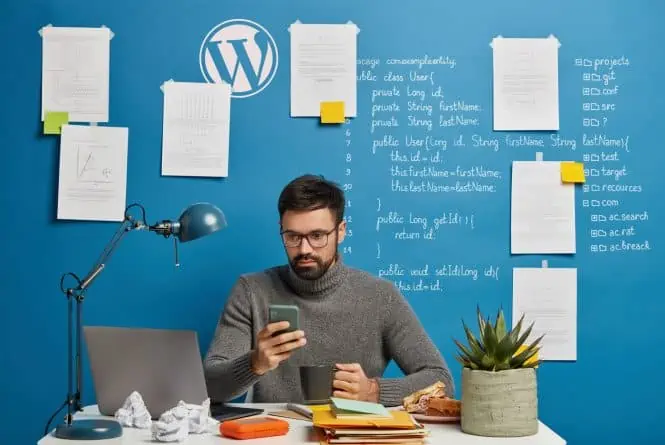 WordPress is one of the world's most popular content management systems – and it's not difficult to see why. Innovative, dynamic and effortlessly simple to use, WordPress has evolved over the years from a blogging tool to a powerful website builder renowned for providing large and small businesses alike with flexibility, accessibility and security. However, the rise of WordPress does beg the question – if you have a WordPress website, do you need a WordPress developer?
The answer to this conundrum largely depends on your needs, goals and budget as well as what your business requires.
So why do you need a professional WordPress developer?
What is a WordPress developer?
As the name suggests, a WordPress developer is a specialist type of web developer specialising in the design, development and execution of WordPress websites. WordPress developers are also full-stack developers, meaning they can design and develop both the frontend and backend of a website.
Most often hired to create custom content for a WordPress website or enhance it in some way or another, WordPress developers are usually well-versed in multiple coding languages including PHP, HTML5, CSS3 and JavaScript. As a result, WordPress developers play a crucial role in the success of a WordPress website and the platform as a whole because, without them, there would be no new plugins or themes.
Of course, some still argue that businesses with a WordPress website do not need to hire a developer. After all, there are plenty of free themes and plugins they can rely on, right? Guess again! If you're looking to create a unique experience for your users, you won't be able to produce that with an existing theme or plugin.
There is also more to building a WordPress website than simply making it look pretty. Outsourcing the creation and management of your website to a professional developer takes the hassle out of launching a new website or rebuilding an existing one. A professional WordPress developer will also be able to combine their advanced knowledge of coding with the components that make a successful website, including navigability and search engine optimisation.
So what are the benefits of hiring a WordPress developer?
Strategic
Hiring a professional; WordPress web developer has several benefits, one of which is their capacity to develop a strategic plan for your website. Before building the solid foundations you need and implementing a custom strategy that will guarantee the success of your site, a competent developer will evaluate your business and your core model for the purpose of creating an entirely bespoke experience for your users.
SEO-friendly
Search engine optimisation, more commonly known as SEO, is the practice of increasing the organic visibility of your website on search engines such as Google, Bing and Yahoo. A skilled WordPress developer will be able to successfully optimise your website, which can increase the likelihood that it will show up in the SERPs (search engine result pages) and drive the right kind of traffic.
Better quality
A professional WordPress website will include a variety of features, plugins and other elements. While you can attempt to design your website from scratch, a WordPress web developer has a better chance of staying on top of the most recent trends and creating a high-quality, evergreen site that will guarantee your company's success online.
Innovative design
You could try and design your site yourself. However, at the end of the day, a custom website design is far more compelling than a generic, pre-made template.
To capture the spirit of your brand and create a stunning website for your business, you're going to need a developer on your side. A professional WordPress developer has the expertise and know-how to create a bespoke, captivating and intriguing website that motivates and entices.
Responsive
These days, your site needs to be responsive across multiple devices. This is because an increasingly amount of online consumers are relying on their mobile devices such as smartphones and tablets to browse the internet and make purchases.
If your website is not responsive, there is a good chance that visitors using mobile devices or tablets may browse it for only a short time or not at all, which will result in a higher bounce rate for your site. A professional WordPress developer will have the know-how to make your company's website responsive and optimised for mobile and tablet devices as well as desktop computers.
More reliability
In today's world, maintaining consistency on your website is essential. Unexpected downtime can significantly affect your return on investment and overall profitability, especially if the issue is occurring frequently.
A reputable developer can create a reliable website for your business – and if there are any issues, they can quickly and effectively fix them. This kind of proactive maintenance is hugely important in ensuring your site is stable, functional and secure.
More competitive
As previously mentioned, a professional WordPress web designer will have the unique advantage of being ahead of the tech curve when it comes to digital marketing trends as well as your competitors. Your developer will be able to update and add additional features to your site with the click of a button. As a result, your site will be modern and more competitive, allowing your business to stay ahead of other companies in your niche.
Faster
Online users are becoming more and more impatient. As a result, it is essential that your website is quick and boasts short loading times if you want to attract the right kind of traffic and keep users browsing your site for longer. The performance of your website as a whole, including how quickly everything loads, will be greatly influenced by how your website is coded, as well as the size of your images and other content.
One of the biggest advantages of employing the assistance of a developer is their ability to take your loading speeds into consideration and build your site accordingly. This will result in a quicker site and a better user experience.
WordPress developers at Priority Pixels
Essentially, there are numerous additional advantages and benefits to take into consideration when thinking about hiring a professional developer, whether you're establishing a new website or redesigning an old one.
Over the years, WordPress has grown in popularity – and it's easy to understand why. The platform is user-friendly, jam-packed with innovative plugins and has a number of cutting-edge features and solutions that make managing a website easier than ever.
At Priority Pixels, we've been designing dynamic, visually immersive WordPress websites since 2016. Our talented team of WordPress web developers and designers have the experience, creative flair and coding expertise to build you a stunning, on-brand website for your business.