Why Your Brand Needs Copywriting Services
---
---
Reading Time: 5 minutes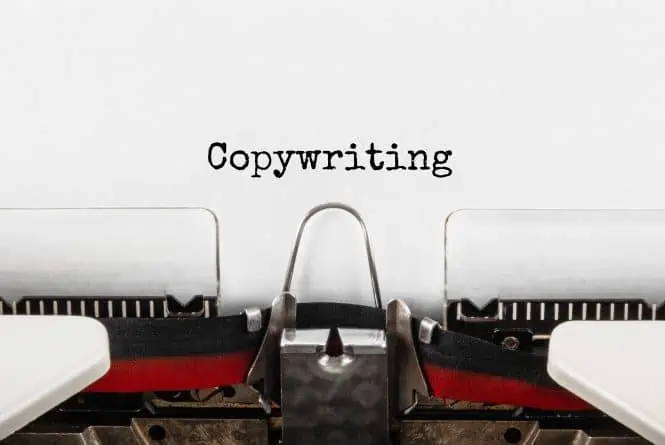 Copywriting services have been alive and kicking since Mesopotamian times. For thousands of years, us writers have used our way with words to craft compelling stories, entertain and persuade, inform audiences and get messages to the masses. However, although human civilization has come a long way since Babylon stood, our attention spans are as fleeting as ever. In 2021, a study by Microsoft concluded the average attention span these days is just 8 seconds. So, despite the decree of numerous online articles proclaiming the death of traditional copywriting, I think it's safe to say that it's never been more important to have a professional word slinger in your ranks.
When it comes to copywriting services there really isn't any way you can cut corners. From professional website copy services to employing a wordsmith for your social media, if you're after compelling, immersive content, you need a professional scribbler – not a swindler or an AI. With the average human attention now shorter than that of a goldfish, it's never been more important to make every word count when it comes to your marketing. In fact, hiring a copywriter may be the best decision your business makes this year.
So, what is a copywriter? And why do you need one for your website?
What are copywriting services?
Contrary to what the random man at the pool tried to tell me the other day, copywriting doesn't really have anything to do with copyright or intellectual property (sorry Frank). Modern copywriting services are the provision of various writing services to engage target audiences. The difference between a writer or an author and a professional copywriter is purpose – that purpose being to transform a potential customer into a loyal client who comes back time and time again.
The term copywriting refers to the act of writing words to sell a product or service. Modern copywriting services vary from task to task, but most often include:
SEO blog writing
Website copywriting
Email marketing
Social media content creation
Although copywriting has remained a crucial service within marketing for hundreds if not thousands of years, it's particularly important in this day and age. This is particularly relevant when you consider just how much time we're spending online – on average, we're consuming 34 gigabytes of information every day and here in the UK, 1 in 4 consumers are spending more than five hours a day on social media. As a result, there is an increasing need for high-quality, compelling content to break through all the noise.
View this post on Instagram
View this post on Instagram
Do I need a copywriter?
Historically, copywriting was a type of commercial writing that aimed to persuade someone into purchasing a product. It had an overtly promotional tone and usually attempted to establish a relationship between the product and its audience  – Mad Men's Don Draper and his team of 1960s provocateurs might come to mind. These days, copywriting has taken on a different role entirely.
In the digital age, professional copywriting is commonly used to encourage an audience to do something. In a nutshell, the role of the modern copywriter is to evoke a sense of action in a target audience. The action could be purchasing a product and/or service, subscribing to a newsletter or simply engaging further with a brand via social media.
While anyone can write, it takes skill to be a successful copywriter in this day and age. Most professionals will have a background in journalism or have an English degree and will train for years to hone their craft.
As a result, when it comes to employing a professional wordsmith for your business, it's not as simple as hiring the first person who walks through your office doors and can spell correctly. A good copywriter can help your business…
Get the results you want
This is particularly relevant for businesses looking to boost their social media engagement. One of the common ways modern brands care for their social media is by telling the youngest employee in the office to take over and leaving them to it. While any man and his dog can post content, a professional copywriter can get you the engagement you're after, drive the right kind of traffic to your website and ultimately boost your lead generation.
Professional copywriters also possess a sense of creative pizazz and flair which, regardless of what your overall marketing goal is, can help you business build brand awareness. Ensuring your content is appealing, timely and relevant can boost engagement with your target audience and ultimately get you the results you're after without too much hassle.
My daughter just found this vintage ad for birth control. pic.twitter.com/wyIQmyX8gZ

— Kelli Russell Agodon (is on hiatus) (@KelliAgodon) April 9, 2017
Stay on-trend
If you want organic traffic, your content needs to ebb and flow with the times. A professional copywriter will stay on trend with both lingo and the content itself and as a result, will have the ability to turn out compelling, immersive pieces of copy time and time again that your target audience (and search engines) will love. They'll also keep up to date with any algorithm changes which will ensure your SEO strategy keeps your brand ahead of your competitors.
Save time
If time is of the essence in your office, then hiring a professional copywriter is a no-brainer. Whether you're outsourcing your copywriting services or have employed someone in-house, your copywriter will take care of content creation for your website, blog and social media, meaning you'll have more time to focus on other parts of your business that require attention.
Cut costs
You'll never receive a strong return on your investment if you're cutting corners. After all, if your car was broken down, would you skip the mechanic? Or if you required brain surgery, would you be happy for a junior doctor who's just graduated to perform the procedure over an experienced neurosurgeon?
Professional copywriters have the creative flair, literary mind and experience to ensure you receive the results you're after and can be cheaper in the long term than relying on someone underqualified and inexperienced.
Vintage Porsche copywriting was absolute perfection. pic.twitter.com/ZpwMQDWXFI

— Andrew Forbes (@Andrew4Forbes) August 10, 2021
Copywriting services at Priority Pixels
At the end of the day, storytelling is going nowhere – and until it does, copywriting is here to stay. Like it or now, copywriting services are the key to survival in the hunger games that is modern marketing. Failing to recognise that will only see your brand slain and lost forever in the digital rat race… or something to that description anyway. Us copywriters are prone to the dramatic.
The team at Priority Pixels have been crafting compelling visual and written content since 2016. For more information about our copywriting services, and/or an opportunity to chat with the mad New Zealander who wrote this article, get in touch with our content creation team today at 01626 245061 or email us at hello@prioritypixels.co.uk.