Why Sustainable Web Hosting is The Way Forward
---
---
Reading Time: 4 minutes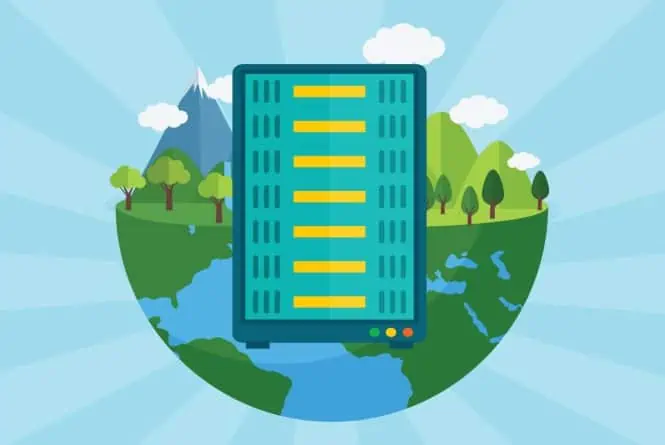 With increasing pressure on businesses to reduce their carbon footprint, switching to sustainable web hosting may be the solution.
In recent years, climate change, sustainability and going green have been hot topics of conversation. As a result, large and small businesses alike from around the world are taking steps towards reducing their carbon footprint and implementing more sustainable processes in their day-to-day operations. What many might not have thought of is the environmental impact of their online infrastructure. When it comes to the internet, data centres consume vast amounts of fossil fuel-reliant energy. Doing so ensures our websites are running efficiently but it's having dire consequences for our planet. As the internet continues to expand, that carbon footprint is only set to grow.
So what is sustainable web hosting? And why is it important?
What is sustainable web hosting?
As the name suggests, sustainable web hosting is a term used to describe a website hosting solution that runs entirely on renewable energy. Also known as green server hosting, sustainable web hosting companies utilise renewables such as wind and solar power to reduce the carbon footprint of their services.
In the past, the internet has been considered an environmentally friendly alternative to paper. With no noticeable carbon impact, many businesses and organisations have not considered how their website might be affecting the planet, as well as their web hosting provider that ensures their site is accessible to people using the internet. The reality is stark.
The Internet has long since outgrown its infancy and in recent years, has expanded and evolved at a tremendous rate. Originally just plain text, user-generated content has also come a long way, developing into a variety of multimedia formats that can now be found on just about every website. Of course, all these websites need hosting. As a result, you'll find all these websites stored on large servers in data centres across the globe. From corporate websites to travel blogs, these data centres play a crucial role in keeping websites running efficiently. Unfortunately, they also require a tremendous amount of energy and as a result, boast a significant carbon footprint.
Why is sustainable web hosting important?
Confused? Don't fret! In a nutshell, a website is basically a load of different files. These files include website code such as HTML, video and imagery. All these files need to be stored somewhere right? This is where a server comes in. A server is connected to the internet and is responsible for serving up a website when users stop by for a visit.
Think of it like a restaurant. A weary traveller (your internet user) exhausted from adventuring around the globe (the internet) visits a restaurant (your website). They're after a full English (your content) and a cup of tea. It's the waitress's job (your server) to make sure the visitor gets their breakfast as quickly as possible – because if your visitor doesn't get their meal soon, they're probably going to get frustrated and leave.
When you pay for website hosting, your hosting company will save your files to their server. In order to keep your website online, that server needs to stay online 24/7. Data centres are built specifically to keep servers online at all times. Up until this point, we've powered data centres using fossil fuels. With an estimated 5 billion people using the internet daily in 2022, well… that's a lot of bacon and eggs.
As the demand for online data continues to grow, so has the amount of electricity needed to power the data centres. Today, 3.7% of the world's carbon emissions are generated by the internet as well as the infrastructure, networks and systems supporting it. The internet also produces more than a billion tons of CO2 every year and 50% more carbon than the global aviation industry.
Can I switch over to sustainable website hosting?
Of course you can! If you've already got an existing website but would like to switch over to sustainable web hosting, the process usually takes about 24 hours depending on the website. Doing so will reduce the carbon footprint of your online infrastructure. It'll also show your own customers your own dedication to creating a more sustainable future for our planet.
At Priority Pixels, we rely on 100% renewable energy for our web hosting services. Let's be honest, making the switch over to a more environmentally friendly alternative was a no-brainer – after all, it means we are proactively reducing our own carbon footprint. It also means we can pass on a more sustainable alternative to our clients.
Sustainable web hosting services at Priority Pixels
The environmental impact of the internet should not be overlooked. For more information about our sustainable web hosting solutions, get in touch with the team at Priority Pixels. Our team of eco-conscious content creators, web developers and SEO experts are just as passionate about saving the planet as you are and would be delighted to assist you.