7 Reasons Why Online Reviews Are Important For Your Business
---
---
Reading Time: 8 minutes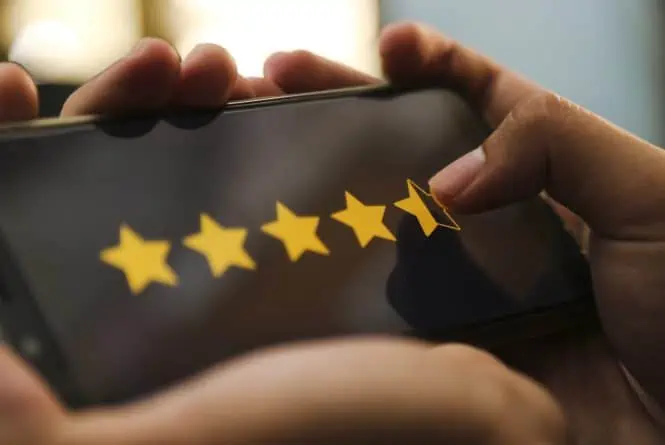 From customers raging about overcooked steak to the sarcastic (and at times, hilarious) responses from business owners, we've all sniggered at viral reviews left by scorned customers on TripAdvisor and Yelp. You've also most likely heard about businesses left with no option but to shut up shop after much negative feedback online. Although it may seem foolish, this is the reality of widespread access to the internet – it's radically changed the way we shop, eat and live our lives. As a result, large and small businesses alike have to play into the hands of an increasingly digital market or risk losing everything.
Online reviews can be contentious, to say the least, but they also hold a tremendous amount of weight these days – especially when it comes to the perception and trustworthiness of your brand. In August 2022, online finance powerhouse Forbes reported that 92.4% of consumers use reviews to guide their purchasing decisions. It's obvious that as consumers, we trust online reviews, but as business owners, we need to trust, respect and honour their power whether we like it or not.
With the power to make or break your brand, it's important to remember online reviews are more than just a platform for grumbling after a bad restaurant experience. Online reviews can provide another outlet for improving your search engine optimisation and give customers insight into who you are, as well as offer up opportunities to put things right when your customers have been left feeling less than satisfied.
Still sceptical about online reviews? Here are our top 7 reasons why online reviews are important for your business.
Build Your Brand with Customer Trust
You're more likely to trust a builder when they come by recommendation of a friend, aren't you? Online reviews are no different. You should think of them as a digital version of good ol' fashioned word of mouth.
Whether you're brand new or simply looking to grow in a new location, gaining customer trust in a new market can be difficult. Online reviews offer insight into positive transactions and can offer reassurance to first-time customers when they're considering choosing your brand over a well-known favourite.
Of course, it isn't just positive reviews that can build customer trust. Responses to negative reviews or queries can help paint a picture of how your business values customer service. Responding to negative feedback calmly and helpfully will not only help the customer who left the review but will speak volumes to those who have come to find out more about your business. If they leave the page with a good taste in their mouth, you'll be more likely to make that sale.
Find out where you're going right (or wrong)
Customers will often only leave reviews for two reasons:
They've had a really good experience
They've had a poor experience
It's important to remember all feedback is good feedback. Positive reviews can be a great way to gather data on the areas that are going well. For example, did the customer explain what they enjoyed about the experience? This information could help find out how to shift the direction of your business – if you're consistently receiving praise for a particular area of your business, then you might want to shift your focus.
Similarly, if there are areas of your business that you expect to be noteworthy but never receive praise, it could be a sign that you need to improve certain things. Positive reviews are also great to share with the whole team and can give your staff morale a bit of a boost –you could even add incentives for employees who consistently receive positive feedback!
Dealing with negative reviews
Negative reviews are an opportunity to see where you might need to improve but for obvious reasons, they can be tricky to navigate. Sometimes a customer might be absolutely raging and will leave a review that you deem unfair – sometimes, it might be wholly justified. If you feel like the review is false or defamatory, you can report it to Google (or any other online review provider). They'll take a look and decide whether or not to remove the review – although often, they might need further evidence or context.
Of course, reviews don't always account for a customer having a bad day, the nuances of supply chain problems, glitching tech, a staff issue or any problems out of your control as a business owner. As a result, negative reviews can be incredibly frustrating. It's important not to let your anger get to you if you feel like the review is not justified.
Take Amy's Baking Company for example. In arguably one of the most notorious episodes of Kitchen Nightmares, chef Gordan Ramsey visited the Arizona restaurant after the two owners, Amy and Samy Bouzaglo, claimed online reviews and bitter bloggers were the reason their eatery wasn't doing well. Instead of listening to Ramsey's feedback and their online reviews, Amy and Samy responded with hostility, disbelief and pure rage.
Amy and Samy could've used their feedback to improve the overall experience of their restaurant – instead, the episode resulted in one of the most notorious internet meltdowns of the early 2000s.
The lesson here? Your customer is always right (even when they're wrong).
Improve your search engine optimisation
Google registers all positive mentions of your business – the more you can accrue, the more 'trustworthy' Google will rate your business. This can have a positive impact on your search rankings which can boost your lead generations and conversions online.
Most business owners see online reviews as a passive addition to their online profile, which may only occasionally require attention. However, rather than leaving online reviews up to chance and customer behaviour, you could tap into another powerful tool in your SEO toolkit. Encourage your customers to leave reviews on Google, TrustPilot or any other online review service of your choice. By sending an automated follow-up email after a sale or running a competition for customers who leave reviews, you can generate more mentions of your business and use positive reviews to your advantage.
By encouraging customers to reflect on their experiences, you'll improve your search rankings and receive more reviews on your chosen platform – making it easier for first-time customers to find out about your business. It's a win-win!
Generate more organic keywords
Every review provides your business with organic keywords. For instance, if you are a window business, happy customers might leave reviews which read, "Wow, these are the best windows in the South West!". Google will take note of this, and your business may begin to rank for the search term best windows in the South West.
Don't leave it up to chance! When it comes to generating off-site content to bolster your SEO strategy, online reviews can do a good amount of legwork.
Encourage even more reviews
Once your business begins to gather reviews, customers will feel compelled to add their own thoughts. As a result, by just having a few online reviews next to your name, you can start to build a culture of reviews which, as we've learned through this article, makes your business appear trustworthy to first-time customers.
Give customers a snapshot of your brand
It's important to always reply to reviews – both positive and negative. Even if it's a glowing review that you feel requires no response, make sure you always say thank you. This immediately creates a personal connection with the customer and can encourage more reviews.
It is also worth noting that all communication with customers reflects your brand. So unless your brand lends itself to being snippy and sarcastic, it is best to avoid these responses when reviews are less than favourable. An excellent tactic for responding to negative reviews is to offer to look further into the problem and attempt to resolve the issue away from the reviews platform by providing a contact email or phone number.
You will probably find that they don't get into contact, as the review is just a rant – but you will look professional, trustworthy and helpful. If they do get in touch and can help resolve their query, you may find that you have retained a customer who would have otherwise had a negative experience – and they may even be resolved to remove that negative review!
Tap into free marketing
Online reviews aren't as good as word of mouth – they're better! When someone leaves a positive review, take a screenshot and post it on your brand's social media to show potential customers how much people love your product. It's also possible to create widgets that pull information from online reviews to your website. This reminds browsing customers just how brilliant your business is. There's a reason theatre shows are desperate for five-star reviews – it's because they work!
Utilising your online reviews at Priority Pixels
We all know the internet is the "go-to" place when consumers are looking to buy their stuff nowadays. The trouble is, whatever product or service you provide, there are other businesses offering it too. That's why you need to give customers a reason to trust you over the competition – online reviews can help you do it.
If you're looking to develop your SEO strategy and harness the power of online reviews without becoming a keyboard warrior, the professional and level-headed SEO team at Priority Pixels would be delighted to assist you. We can utilise your online reviews and use them as part of a powerful data-driven SEO strategy that drives the right kind of traffic to your website and bolster your lead generation and conversions.
For more information about online reviews and search engine optimisation for your business, get in touch with our team today.