What is green web hosting?
---
---
Reading Time: 4 minutes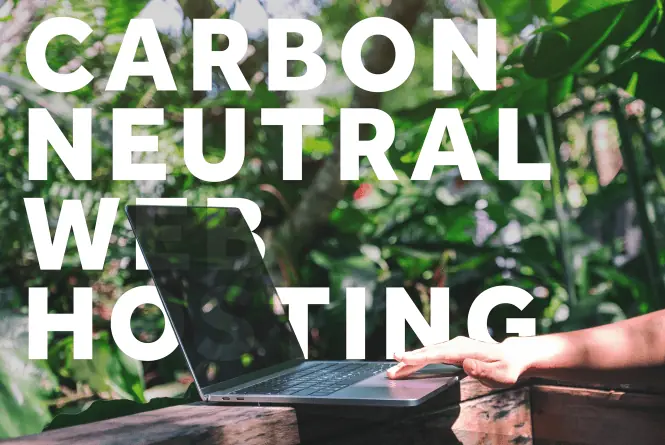 If you or your business has a website, you've probably heard of web hosting – but are your web hosting services carbon neutral?
Not too long ago, the internet was considered a sustainable alternative to paper. During the onset of the digital era, businesses of all shapes and sizes went paperless, turning to computers and IT infrastructure to get through the day and abandoning paper almost overnight. With no noticeable impact on the environment, it's no wonder the internet is still seen as environmentally friendly.
In reality, the internet has a carbon footprint rivalling that of even the aviation and maritime industries. It's responsible for 3.7% of global carbon emissions generated every year and releases more than a billion tons of CO2 into our atmosphere annually. This is because to power the internet, we need energy-hungry servers and data centres which are largely reliant on fossil fuels to function.
This is where carbon neutral web hosting may be the solution. We can't switch off the internet or the data centres it requires to run – but we can power that infrastructure with more environmentally sustainable technology. Carbon neutral web hosting does just that. Also known as sustainable web hosting and green web hosting, it's a modern solution that ditches fossil fuels in favour of renewable energy such as wind and solar power.
As the internet continues to grow, so does the amount of energy needed to power it. By switching over to a green web hosting provider, you can…
Preserve our natural resources
One of the biggest reasons why switching to carbon neutral web hosting is so important is because it helps to conserve our planet's natural resources. Unlike traditional web servers, which rely heavily on fossil fuels, green web hosting utilises renewable energy such as wind, hydroelectric and solar power.
Green web hosting also utilises more efficient infrastructure and cooling systems, which reduces the amount of energy it needs to function properly. As a result, green web hosting is far more energy-efficient than traditional web servers.
Save wildlife habitats
It's no secret that our planet's wildlife is among the most affected by the fossil fuel industry. This is largely due to the mining process needed to extract fuels from the earth, as well as toxic air and water pollution, both of which are having a catastrophic impact on important wildlife habitats.
As traditional web infrastructure relies heavily on fossil fuels, it's never been more important to switch over to a more sustainable alternative, like carbon neutral web hosting. Doing so can preserve and protect the habitats our wildlife needs to thrive and flourish, as well as reduce air and water pollution.
Optimise the performance of your website
As carbon neutral website hosting is more efficient than traditional servers, making the switch can also have a positive impact on your search engine rankings. This is because by relying on more efficient infrastructure, your website will load quicker and experience less downtime. Modern search engines like Google, Yahoo and Bing love a website with better performance and an improved user experience. This means more efficient and reliable hosting services can result in a higher rank for your website.
Choosing a carbon neutral hosting provider can also improve your brand image. Sustainability is a hot topic in this day and age, and showing your target audience that your business is making an effort can improve customer trust and loyalty.
Make a difference for future generations
Perhaps most important, carbon neutral web hosting can ultimately preserve our planet for future generations. Making the switch over to green hosting promotes sustainable practices and contributes to a healthier planet, as well as conserving natural resources and protecting wildlife. By making the conscious decision to reduce the carbon footprint of your business, you can help create a better, brighter world for your children and grandchildren – one with breathable air, cleaner oceans and waterways, thriving forests and flourishing wildlife.
By supporting carbon neutral hosting providers, you can also make a difference as we move towards a more environmentally sustainable future and inspire other businesses to take action.
Carbon neutral web hosting at Priority Pixels
Here at Priority Pixels, our team believe even the smallest actions can make a big difference for our planet. That's why we offer sustainable web hosting services that are 100% reliant on renewable energy.
By choosing our web hosting services, your business will be choosing a better future for yourself, future generations and of course, our planet. Our carbon neutral web hosting services will provide your business with a high-quality, reliable, secure and environmentally sustainable hosting solution that is designed to meet your needs while also minimising your carbon footprint.
Basically, your website doesn't have to cost the earth. For more information about our carbon neutral web hosting solutions, get in touch with the team at Priority Pixels today.