What is Domain Authority?
---
---
Reading Time: 5 minutes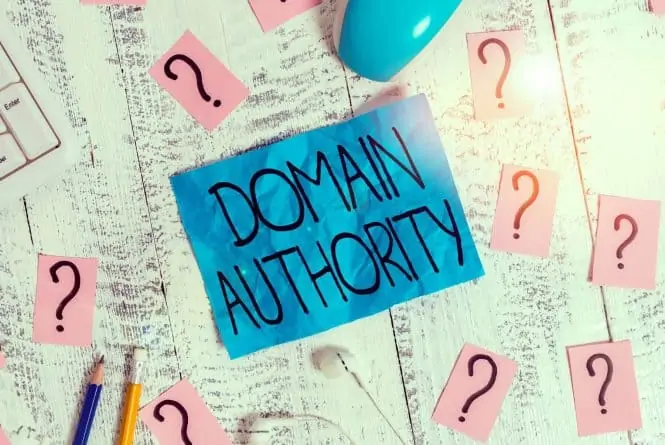 If you're in the process of building a digital marketing strategy for your website, then you may have come across a concept known as domain authority.
Domain authority, otherwise known as DA, is a simple way of predicting how much authority your domain carries. As a result, it's a brilliant indicator of how well your website will rank on search engines. Originally engineered and coined by our good friends over at Moz, domain authority is a vital metric for measuring the success of your digital marketing strategy.
Is domain authority a ranking factor?
Domain authority is a vital metric in digital marketing which can predict how likely it is your website will appear on search engine results pages (SERPs). It's important to highlight that search engines do not use domain authority as a ranking factor. As such domain authority will not improve your ranking directly. Major search engines have been outspoken about domain authority. The metric is simply a useful tool engineered by Moz.
However, in saying that, understanding domain authority can still make or break your digital marketing strategy. Although it won't contribute to your rank or guarantee you a spot on the search engine result page (SERPs), domain authority allows businesses, organisations and SEO experts to assess the performance of a website and its attached digital marketing strategy. By measuring your success with domain authority, you can also easily compare yourself to your competitors and adjust your strategy accordingly. So, although domain authority is not a ranking factor, it can still indirectly help to boost your visibility in search engines.
What is the difference between page authority and domain authority?
Domain authority measures the likelihood of your entire website ranking in search engines while page authority focuses specifically on the authority of each page.
Essentially page authority determines the performance of your individual web pages, such as blogs and product pages. This useful metric allows you to assess your pages that may be doing well, and finetune those that may be lacking.
What factors does domain authority consider?
Domain authority is scored from 1 up to 100. Essentially the higher the score, the more authority your site has. Contributing factors include the number of links directing traffic to your website and the quality and relevancy of those links. Your content is also important, as is your popularity on social media and other digital platforms.
A brand-new website will always start with a domain authority of 1. Your score will increase as your site is populated with content and receives more traffic.
Improving your DA
So how can we build domain authority and out-rank our competitors in search engines? Regularly generating concise, relevant content that focuses on your target audience is absolutely vital. It's also important to make sure you are refreshing older content, and ensuring it is optimised for search engines. Your content needs to be high quality and have authority. Consider authority one of three pillars in your SEO, the other two being relevance and trust. Unlike domain authority, trust, relevance and authority are ranking factors. Search engines use your content as well as backlinks to assess those three factors on your site and rank accordingly.
Authority, relevance & trust
Subsequently, these three pillars are incredibly important if you hope to strengthen the overall visibility of your website. By producing authoritative, quality content that is relevant to your target audience, the right people will come across the site in their web searches.
One of the crucial parts of your digital marketing strategy should revolve around keyword research. The trick is to choose keywords that are relevant to your website and have a relatively high search rate – but with low competition. This means not every man and his dog is using those keywords on his own website.
Using keywords on your site increases your chance of building authority and ranking for that keyword or phrase. In turn, this will increase the likelihood of your target audience coming across the website in their searches and spreading your content organically across the internet through likes, shares, comments and clicks. It's important your content remains high quality, and you're not 'keyword stuffing' – search engine algorithms can tell!
Analyse your competitors
While it's not a ranking factor, DA is a great metric for measuring the success of your strategy. This includes the success of your keyword research and content creation. You can also compare and contrast your success with that of your competitors, identify their processes and ask yourself what is and isn't working. We are in no way suggesting you copy your competitor's content and strategy. However, it's important to evaluate their success. You should look at what processes they are focusing on that you may be skipping over.
Backlinks
A backlink is essentially a link from one website to another. A link on a high-quality website will tell search engine algorithms that your website has authority in that subject. In turn, quality backlinks will essentially translate into a higher DA for your site. For example, BBC News has a DA of 95. This is unlikely to budge as the BBC is a top media outlet which is often used as a source of reputable news on social media, blogs and other websites.
High quality, relevant backlinks are crucial in getting your website in the SERPs. Don't forget 10 high-quality backlinks from reputable websites will produce much better results than 100 spammy sites.
Is my domain authority good?
Your domain authority score is relative within your specific niche. As a result, it should be looked at as a comparative metric. There's isn't really such a thing as "good" DA, as your success will depend on the success of your competitors. In saying that, most websites will sit somewhere between 40 and 50.
If you've been putting hours of work into your SEO strategy but are yet to see results, don't fret. DA is a long-term strategy.
Domain authority at Priority Pixels
While domain authority is not a ranking factor, the metric is incredibly useful in analysing the success of your website. Having the highest possible score shouldn't be your goal. Instead, evaluate your competitors and the digital strategies they are using. If the top competitor in your niche has a DA of 36 for example, then you could focus on gaining a score of 37 or 38 to knock them off the top spot. Building your DA is a long-term strategy, and it is unlikely you will see results overnight.
Of course, if you're feeling overwhelmed by the concept of domain authority, you could always contact a digital marketing agency. Priority Pixels has been creating bespoke digital solutions for businesses and organisations since 2016. Our team of SEO specialists, web experts and content creators boast a wealth of experience in all things digital – and we're always happy to help.
If you have any questions about SEO strategies or are ready to take your website to the next level, contact us today.