How can a business benefit from weather marketing?
---
---
Reading Time: 7 minutes
"Such a nice day, isn't it?" "Horrible weather today". Small talk is one of those things we all do but find awkward. British people love talking about the weather, it's one of the most popular conversation starters. Studies suggest that we will spend over 4 months of our lives talking about the subject. In this post, we will be talking about the British weather but from a business perspective. Have you ever looked at how the weather affects your business and how you might benefit from weather marketing?
Anyone who has worked in retail or the hospitality industry will tell you that the weather does have a direct impact on sales. And they would be right. A study by the Centre for Economics and Business Research proposed that a drop of just one degree in the minimum average temperature can cost the UK economy £2.5 billion.
The weather can have a huge impact on a business's sales, ranging from extreme changes to minimum ones. Let's have a look at some of the ways UK businesses have been affected by the weather in recent years.
Summertime and heatwaves
Summer in the UK is always a bit all over the place. We experience rain showers as well as periods of sunshine. The last few years have seen the UK experience heat waves which have had a direct impact on sales and seen some big companies using weather marketing to its full potential. First, let's briefly discuss the two main reasons people spend more during the hot weather, for enjoyment and coping.
Enjoyment
Exposure to sunlight is believed to increase a hormone known as Serotonin. Serotonin is believed to increase your mood and help you feel more relaxed. How can this impact sales? If people are happier and more relaxed, they are likely to spend more time socialising with friends and family. And where do they do this? Outside. Meaning they are likely to spend money on food and drinks. However, a popular activity during the summer is having a barbecue. It's reported that Tesco claimed an increase in temperature of 18 degrees can increase the demand for barbeque supplies by 50 percent. This includes utilities, disposable barbeques, and meat.
Coping with the weather
Sun cream, fans, ice cream, and bottled water are a few of the many things people buy more of during the summer period. The UK saw some extreme weather conditions in 2018 including heat waves throughout the summer. As a result of this heatwave, the UK saw 4.267 billion litres of bottled water being sold, an increase of 7%.
Costa Coffee rolls out weather marketing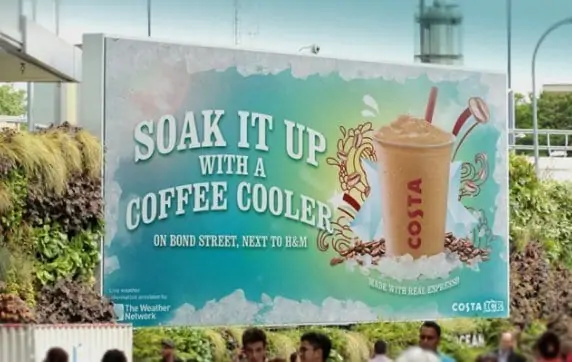 Image Credit
Costa Coffee is well known for its range of hot drinks, however, they wanted to increase the awareness of their range of cold beverages, specifically over the summer with their 'Costa Ice' range.
Graphite created a campaign for Costa which would run video advertisements outdoors. However, what makes these adverts unique is, they were completely in sync with the weather and would update in real-time. They identified three main weather types to target which would display a different message and animations depending on the weather;
Cloud – "Hello Cloudy Skies"
Sunshine – "Hello Sunshine"
Rain – "Hello British Summer"
Finally, a fourth ad was created to overrule all the ads regardless of the weather conditions. Once the temperature reached 25°c, a "Hello Heatwave" message will appear with a related product. This is a great example of weather marketing as its specific, unique, and uses language on a topic all Brits love talking about.
Why would this be so successful? It's reported that 80% of consumers prefer to do business with a company which personalises the user's experience.
Rain increases online activity
Unlike when it's hot and sunny, which encourages people to go outside, the majority tend to stay inside when it's raining. Increasing online activity which will have a direct impact on e-commerce businesses. Let's take January 2018 as an example, which saw the UK experience rainfall above the average for that time of the year. Delivery company Hermes reports that in January 2018 online retail sales were up 13.9%.
Does this mean only e-commerce sites should focus their efforts on weather marketing when it's raining? Not necessarily. Many people will seek shelter during the wet weather and McDonalds are fully aware of this. So much so, that in 2018 they rolled out a weather marketing campaign in London and across the UK.
Weather-reactive campaign
McDonald's set up a similar campaign to the one mentioned above by Costa, adverts that reacted to the current weather. Digital billboards were placed outdoors across the UK and used the MET office's real-time data to display the weather in their ads.
However, to make the weather campaign personalised and in-line with their brand, they turned the McDonalds menu into weather icons. These icons would reflect the current weather, for example, a pack of fries was turned upside down to represent rain. Not only is this campaign a great example of weather marketing but it also displays creative graphic design being used effectively in advertising. This campaign ran through April 2018 and the idea of the campaign was to represent the unpredictable weather April presents every year.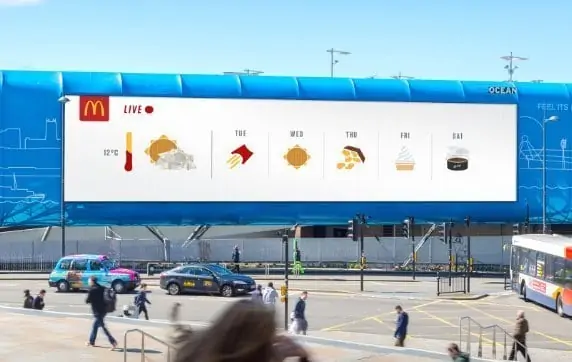 Image Credit
Extreme weather conditions
Here in the UK, we have a tough time dealing with adverse weather conditions. Remember "The Beast From The East" in March 2018 which brought the country to a stop? Snowstorms spread across the whole of the UK leaving people stranded and cars abandoned.
March 2018 is a prime example of how extreme weather can impact sales. You might be thinking to yourself that it's obvious that everyone saw a decrease in sales, however, the impact of the harsh weather was ambiguous. Some businesses benefited from the severe weather.
A survey by the Confederation of British Industry (CBI) found that during this period, sales across retail shops were down by 40% compared to the year before. However, supermarkets, DIY stores, and shoe shops actually saw an increase in their sales. It's clear that people were in a state of panic and wanted to ensure they were prepared for the harsh weather. Everyone was shopping for the essentials rather than luxuries.
The plumbing industry also saw an increase in sales and custom due to the cold weather freezing pipes and affecting boilers. In 2018, £194 million was paid out to fix burst pipes. On the other hand, insurance companies paid out a total of £1.25 billion for domestic and commercial properties. This is the highest that the figures had been in two years, and was a direct result of the weather.
Why is weather marketing successful?
Personalisation is a huge factor that affects people's reactions to advertisements. Research from 2016 suggests 71% of people prefer personalised ads. Of course personalising ads specifically for over 60 million individuals is an impossible task. That's why using the weather is a great subject to focus on as it's a subject people talk about all over the UK.
If your business is likely to be affected by the weather you might be able to make the best out of a bad situation. Or your business might thrive during certain weather conditions. Either way, weather-based marketing can be an opportunity you don't want to overlook.
The weather plays a huge role in influencing consumers purchasing decisions.
Think about what you choose to eat on your lunch break on a cold day, you might opt for something hot. On a sunny day, you might reach for a sandwich or a salad. If you're a pharmaceutical company you might want to target cold and flu medicine during the winter period. However during the summer, when the pollen count is high, hay-fever medicine will be a good product to promote. This kind of thinking can be applied to almost any business or trade.
How you can get started with weather marketing
Devise a strategy – Start thinking about how your product or services can help your customers in different weather conditions. Is it something they will need or something that will enhance their day? Remember, the weather is not just limited to sunshine and rain. Weather can increase allergies such as hay fever due to high pollen count
Have the content ready – Once you have determined how your products will benefit from weather marketing it's now time to get your content ready. Don't wait for specific weather conditions to occur first. Costa likely had the content for its advertising strategy in place months before running the campaign.
Geo-targeting – Do you sell your products nationwide? You don't have to limit your target audience locally. Geo-targeting can be enabled in some of the major advertising platforms such as Google Ads and Facebook.
Cross-reference with sales data – History tends to repeat itself, so using existing research and data can be extremely beneficial for your weather marketing campaigns.
Find out More
The weather clearly has an impact on sales and implementing weather marketing into your digital marketing campaigns might be extremely beneficial.
For more information on how the Priority Pixels team can tailor your advertisements to the weather, get in touch today. Email: hello@prioritypixels.co.uk, or call us on 01626 245061.