How to Optimise Your Website for Successful Lead Generation in 2022
---
---
Reading Time: 8 minutes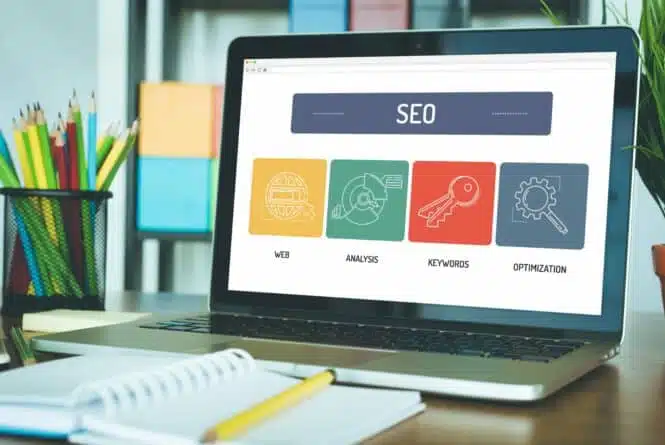 Optimising your website to generate leads is an absolute no brainer for any business. However, gone are the days where lead generation was as simple as adding a click here or a buy now to your home page.
Website lead generation has huge value for businesses and organisations alike which explains why so many invest in a bespoke, multi-faceted digital marketing strategy. Generating leads online is one of the most important ways a business can create a sustainable, profitable business model by simply utilising the full potential of its website.
Why is SEO important for my lead generation?
Search engine optimisation, also known as SEO, is a crucial digital element when it comes to generating leads. It also happens to be an enduring mystery of digital marketing for large and small businesses alike. It can feel as though you are at the mercy of Google's algorithms but this isn't necessarily true. With a good SEO strategy, a well-researched approach and a few tools in your pocket, your SEO strategy should not be greatly affected by the whims of any algorithms.
A multifaceted approach
When creating an SEO strategy, it is important to take into account a multifaceted approach. Rather than focusing your attention on one single area, it is crucial you maximise your efforts across different areas to ensure you haven't put all your eggs in one basket. A bespoke, successful SEO strategy should consist of organic SEO, pay-per-click advertising, content marketing and social media. All of these have the same goal – to drive the right kind of traffic and generate leads.
What happens to visitors when they land on a website is quite often overlooked. While getting lots of traffic is great, keeping those potential customers on your website and engaging with your content should be your primary goal.
So what do you need to do to convert your visitors to leads in 2022?
Optimise your website
So many (and we mean so many) businesses and organisations alike focus all their time and energy on driving traffic. While there is no disputing that traffic should be prioritised, having a well-designed and user-friendly website is key to lead generation. A well-designed, user-friendly website will hold the interest of your visitors' for longer – and the reality is, the longer someone stays on your website, the more likely they are to purchase your product, enquire about a service you offer and/or otherwise engage with your content. A badly designed site will see them hitting the back button and heading for your competitor tout suite.
So what makes a badly designed website?
Poor Usability
Your website should be easy to navigate in a manner that makes sense to both experienced and inexperienced users. All public pages should be easily accessible with a clear indication of how to navigate the site. Pop-ups and ads should also be kept to a minimum to avoid distracting or annoying a visitor. Constant pop-ups or ads can create a slow and unenjoyable experience for visitors that will most likely see them heading elsewhere.
Mobile Compatibility
These days, more and more people are using mobile devices such as phones and tablets to access the internet. As a result, having a website that is optimised for mobile is essential. Making websites more simplified for mobile can enhance a visitor's experience and keep them engaged with your website for longer.
Unappealing Images and Text
Poor quality images and fonts that are hard to read will likely result in a visitor leaving your website. Poor quality images can hurt your business, it looks unprofessional which could lead to customers seeing you as unprofessional too. Unreadable text is also something to avoid, there is no need to use fancy fonts and best to stick with simple and clean fonts that are recognisable and easy to read.
Landing pages
Landing pages are a great marketing tool. They can be used to drive traffic to your website, and help promote a product or service that you offer. Some businesses even use location-specific landing pages to drive traffic from specific areas.
Landing pages generally sit outside of your website's main navigation. They offer a way for potential customers to land on your website via search engines, an email campaign or even direct mail. There's no limit to how many landing pages you can create but it is important to follow some basic rules:
Do not duplicate content – Search engines will rank your pages down for this.
Ensure your pages are engaging and have a clear message – It's no use getting visitors to your site only to have them leave because the page is poorly designed or confusing.
Your landing pages should be visually consistent and provide the same message as your ad campaign. It's also important to adhere your landing pages to your company branding. This means when a potential customer clicks an advertisement from your site, be it an email or paid advertisement on a third party site, they should be able to identify immediately the connection between the ad they clicked on and the landing page.
Use forms
Lead generation is about creating relationships with potential clients. By creating forms on your website, you essentially create a touchpoint for web visitors. In total it can take 18 – 20 touchpoints before a customer chooses to purchase. Think of touchpoints as the number of times that your product or service is viewed. The more opportunities you create, the better your lead generation rates will be.
Contact forms
Most websites will already have a contact form of some sort. Most are set up by a web developer during development and then never really looked at again. In reality, collecting the right data from your contact form is vital for lead generation. It's also important to ensure you're not putting your visitors off by simplifying your contact forms, and making sure they don't have too many fields to fill in.
Using a range of forms throughout the site can help generate more leads. A few examples include a:
Quick contact form in your sidebar
Contact form that appears from the side or bottom of the page when clicked on
Pop-up box with a contact form
Main contact page that can be accessed through your navigation menu
Subscription forms
Differing slightly from a traditional contact form, a subscription form asks visitors to subscribe to your mailing list – hence the name. It's a great way to keep your customers up to date with news, offers and of course, the latest products and services your business is offering. Forms can be connected directly to email marketing tools, with platforms such as MailChimp and Campaign Monitor which make the process of creating a regular newsletter even easier
A subscription form can sit anywhere on your website. However, if your aim is to capture as many sign-ups as possible then including it in the footer of your site means it will appear on every page.
Implement Live Chat On To Your Website
Instant messaging is more popular than ever and it is expected to continue to grow as demand increases. Convenient and simple to use, implementing a live chat service to your site can provide you with a competitive advantage. Some examples of live chat services include LiveChat and Zendesk Chat.
Adding a live chat option to your website can be beneficial for creating leads, particularly if you have a larger business. Having somebody ready to speak with potential customers instantly can increase your chances of converting a sale. It also helps to build trust as it removes the waiting period involved with email and other communication methods.
Use Call to Actions
Most websites will have at least one call to action. A tool used to encourage a visitor to your site to take immediate action, a call to action, also known as a CTA, can be a great way to encourage a visitor to buy a service, subscribe to your email list or even follow your brand on social media.
A popular CTA is to offer a discount or provide something free. This would usually be in exchange for a subscription to your mailing list. A call to action needs to be timed correctly – too soon can be annoying for a visitor as they might not have had time to look around your site yet. This can be especially annoying if they are a first time visitor. On the other hand, a call to action that happens later can distract a visitor from completing another action, such as purchasing a product at checkout.
Although all of the above can help generate leads it's also important to get the balance right. Focus on quality over quantity to create a good user experience for visitors to your website.
Track your engagement
We live in an increasingly digital world – one where large and small businesses alike can proactively track their engagement and use that data to shape their digital marketing strategy. From social media engagement to working out what point on your website is making your visitors hit the back button and head elsewhere, tracking your engagement can help businesses assess where they're going wrong in terms of content and further hone their lead generation strategy.
Generating leads at Priority Pixels
Optimising your website to generate leads is an absolute no brainer for any business. That explains why these days, businesses are investing in bespoke digital marketing strategies to boost their lead generation and conversion rates. Generating leads online is one of the most important ways a business can create a sustainable, profitable business model by simply utilising the full potential of its website.
If you're feeling overwhelmed by the concept of lead generation, you could always contact your local digital marketing agency. Priority Pixels has been creating bespoke digital solutions for businesses and organisations since 2016. Our team of SEO specialists, web experts and content creators boast a wealth of experience in anything and everything digital – and we're always happy to help.
If you have any questions about lead generation or are ready to take your website to the next level, contact the team at Priority Pixels today.
FAQs
What is a lead generation website?
A lead generation site is a website that transforms visits into leads (hence the name).
A lead generation website assists visitors to your website. It also gathers information about them for your own company. Think of it as a digital brochure that educates your visitors while also nurturing prospects within your business.
How do I build a lead generation website?
Good lead generation will always have its foundation in a solid website. That website should be built using the four pillars of SEO. Navigability is also key, as is the visual aesthetics of your site.
Lead gen checklist
List your goals – Before you jump into anything, list your goals and aspirations for your site. Ask yourself what kind of leads you would like to generate and the most efficient way for your customers to contact you.
Build a solid website – Make sure your site is up to date and functional. Issues with responsiveness, loading speeds and general useability will only increase your bounce rate.
Build trust with your customers – Build trust with your visitors using testimonials and an 'about me' page. It's important to present your company in a positive light.
Add high-quality contact forms that are easy to use – Once your site works and looks legit, it's important that your visitors are able to contact you. Make sure your contact forms are functioning and easy to use.
Get creative with your CTAs – Yes, 'buy now' is effective but it's also not that interesting. Get creative with your CTAs and create compelling copy that entices and inspires.
How do I generate leads for an e-commerce website?
Generating leads through an e-commerce website is quite different to a non-e-commerce site. For starters, your target lead is most likely someone who will purchase something from your online store. This is in contrast to a marketing lead where you might like to acquire somebody's contact information.
Entice & inspire
One of your goals with an e-commerce site is to keep your visitors on your website for as long as possible. The theory is that the longer visitors stick around the more chance they may purchase something. Offer freebies, discounts and deals via email and social media to reel visitors in. It's also important to simplify the checkout process to discourage cart abandonment
How to generate leads?
There are a number of ways you can generate leads through your website. This includes blog posts, coupons, live events, subscription forms and other online content. At the end of the day, how you generate leads will come down to the unique needs of your business and the design of your website.
If you need assistance with your lead generation, contact Priority Pixels. We have the industry expertise and lead gen know-how to guide your business to success.