How Do You Optimise a Blog Post?
---
---
Reading Time: 7 minutes
So you've just finished off your latest blog post. You sit back, take a sip of your coffee that has long since gone cold. You've spent the past few hours humming away at your laptop, hunkered down in your study tapping away. The content is fresh and original, not to mention comprehensive. After a brief interlude and reread you go to hit publish – but wait, have you checked your content is SEO ready?
How do you optimise a blog post, and what is SEO anyway?
What is SEO?
Search engine optimisation, otherwise known as SEO, is absolutely crucial in increasing the digital visibility of your website. These days optimising your website, and yes that includes your blog posts and content, translates to better ratings in search engines like Google and Bing which basically means you're more likely to reach your target audience and drive traffic to your site.
Gone are the days where a single keyword would see your content ranking on Google within hours.
Yes, you could trust in the quality of your content and post with reckless abandon, but by doing so you risk being buried. Your website is not special unless search engines say so, no matter how often your Mum raves to her friends about your blog.
How do you optimise a blog post? There are many factors that can affect the SEO of your site.
Research your keywords
As a blogger and/or content creator, you don't have to guess what topics and keywords your target audience is searching for online. Keyword research is crucial when planning your content strategy, as it helps you research topics your target audience will be interested in. This research is used by professional digital marketing experts and content creators to optimise their content and is based on data from search engines like Google, Bing and Yahoo.
You should also use your research when looking for new blog post ideas. We recommend using tools such as SEMRush, which can help you pinpoint your keywords.
Semantic keywords and latent semantic indexing
After pinpointing your keywords it's important you narrow your research down and find a single keyword with low competition that still has a relatively high search rate. This is your focus keyword and will be a phrase or single word your target audience are likely to search for.
You'll also need to seek out your latent semantic indexing (LSI) keywords, which are searches related to your focus keyword. The easiest way to find them is to Google your focus keyword and scroll right to the bottom of your results. You'll find them at the foot of the page listed as 'related searches.'
While it's important to get as many keywords into your content as possible, it's also important that you don't over-stuff your blog posts. It looks odd to your readers and search engines are also remarkably savvy at picking up on it.
Effective blog titles
Choosing a catchy and click-worthy title for your blog post can be tricky, but it's hugely important when considering SEO. It's important to keep the title short and snappy as well as your URL. It's also crucial to get your focus keyword in there. Start by jotting down your focus keyword with a few emotive, powerful words.
Internal and external linking
After you've been blogging for a while, your website may start to gain traction. Internal linking allows new visitors to your site to check your older posts. This also works the other way. If someone comes across your older posts, you want to make sure you've got links to your newer content and vice versa.
External linking is also important. Make sure you have at least one relevant external link per blog post. It is also important the linked words are relevant to your content and focus keywords. For example, you may be writing a piece on smartphone photography. You might want to link this article by The Guardian about the winners of the iPhone Photography Awards. See what I did there?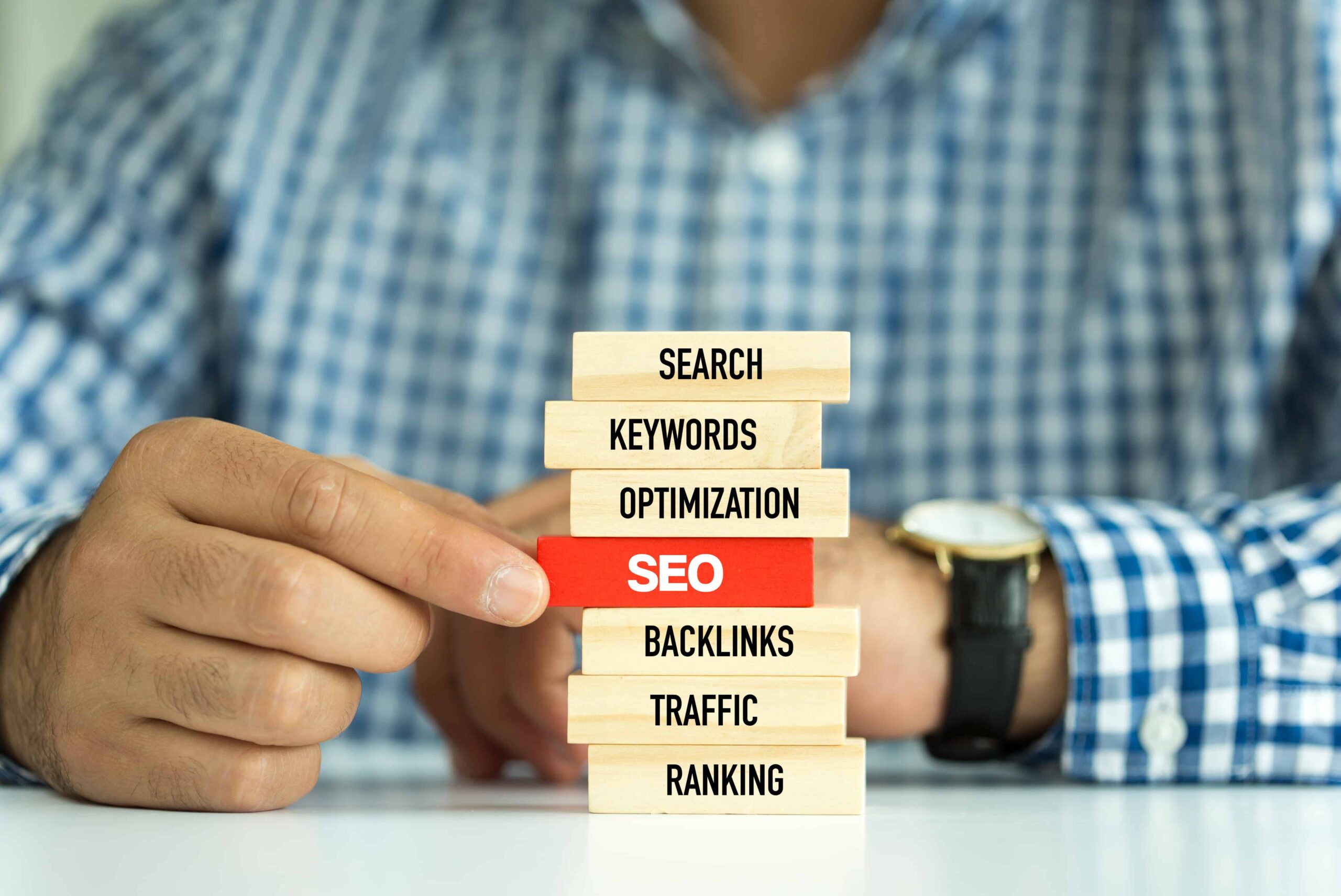 Rewrite and optimise
It's important to go back and optimise old blog posts regularly. Rewriting older posts is especially crucial if your content is centred around tech, software and/or science where the industries are constantly changing.
Update your keywords and rewrite old clunky paragraphs. Don't forget to add new inbound and outbound links and remove outdated ones.
Imagery and videos
In our modern, fast-paced world images and videos are far more engaging than large blurbs of text. Search engines know this. Algorithms are more likely to give high ranking spots to websites with engaging content it's important you break your blogpost up with images and/or video.
When adding images, make sure you're careful with copyright. If you don't have the proper permission to use an image you could find yourself in legal trouble. There are plenty of websites offering free stock photography if you don't have your own photography skills to fall back on.
If you'd like to add a video, upload it to YouTube or Vimeo first then embed it in your blog post. Uploading your video straight to your hosting service can result in slow download speeds – that's if your hosting service supports video at all.
Metadata
Have you ever searched a phrase or keyword on the internet and seen those little descriptions underneath the website titles? That my friend is a meta description.
Metadata is an HTML meta tag you can attach to any webpage or post on your site. Its purpose is to provide a concise description of the page for search engines and other web crawlers.
Make sure your metadata, including both your meta description and title, include your focus keyword.
Readability
Readability is hugely important when considering SEO. Digital screens are still not optimised for reading. Articles that are easier to read will rank higher on search engines. Most visitors to your blog will spend only a few seconds on your site before deciding whether to stay. The fact is if they are faced with thousands of words of dense, complicated text they are more likely to bounce. Your bounce rate can also drastically impact SEO value.
By improving the readability of your blog, it's possible for visitors to scan through your text quicker. You can improve readability with shorter sentences and by breaking up smaller paragraphs with headings and bulleted lists. Adding a margin to your blog posts also improves readability by adding additional white space.
Categories and tags
Think of your categories and tags as a glossary or index in the back of a book. Categories are used to organise your content into major topics. Tags however are the topics themselves, which are discussed in your blog posts. Using categories and tags to help divide your content makes it easier for both you and your readers to sift through your website.
It is also easier for search engines to find, categorise and rank your site. Therefore, it's crucial when improving the SEO of your site to use categories and tags.
Featured snippet
If you've ever Googled a question, then you've probably come across the featured snippet at the top of your search results. In an effort to answer questions and solve conundrums as quick as possible, Google introduced a highlighted search result that appears at the top of your page. That custom snippet is generated from online content that has been highlighted by the algorithm as being the best answer.
While there's no particular set of instructions to get your content in the featured snippet, SEO and continually improving your content increases your chances of being picked for the top spot.
SEO copywriting at Priority Pixels
SEO is the process of improving and optimising the content of your site for the purpose of increasing your digital visibility. Optimising your content increases the likelihood of reaching your target audience, and drives traffic to your site.
You could trust in the quality of your blog posts and content, or you could guarantee visibility on search engines, improve traffic and increase your conversion rate with just a few simple steps.
Need help with optimising your content? Priority Pixels has been delivering tailored digital marketing strategies to businesses and organisations in the South West since 2016. Our mighty team of web developers, content creators and digital copywriters have a wealth of knowledge and expertise – and we're always happy to help.
Contact us today by emailing hello@prioritypixels.co.uk or give us a call on 01626 245061.
FAQs
Why is optimising my content important?
It's important to optimise your website because your site as well as your content is unlikely to be found by your target audience without search engines pointing users to it.
When you optimise your content for search engines, it allows potential customers and visitors to find your website through organic search.
Optimising your content is important because:
You'll rank on search engines
Drive traffic and social engagement
Generate leads
Build authority in your chosen topic
What is the difference between content creation and content optimisation?
Essentially, your content is for your target audience. Your content optimisation on the other hand, is for modern search engine crawlers.
When creating your content, it is absolutely paramount it is shaped and tailored to your target audience. However, when publishing and presenting your information, it is crucial that your content is optimised for search engine algorithms. Without optimisation, search engines won't know who to point your content to, resulting in a lack of high-quality traffic and lead generation.
What is keyword research?
Keyword research is a crucial slice of your optimisation pizza. Without thorough, well-thought-out keyword research, you might as well be making Italian food without any cheese or tomato. It is the backbone of SEO as well as content creation and optimisation. But what is it? And why is it so important?
Keyword research is the process of finding, analysing and selecting keywords and phrases that your target audience enter into search engines. Keyword research lets you know what keywords you should be using on your website and within your content, as well as uncovering particular queries to target.
Perhaps most pertinent, keyword research provides valuable insight into the behaviour of your target audience which can inform your larger content strategy as a whole.