How do you know if you need local seo?
---
---
Reading Time: 4 minutes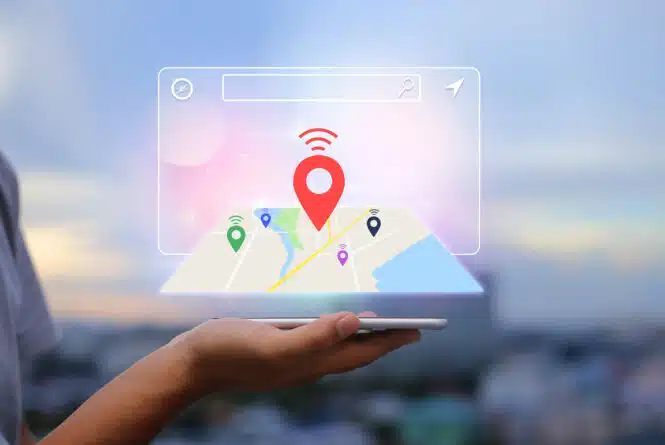 Over the last decade, it's become increasingly important for large and small businesses alike to establish and grow their online presence. This is largely due to the fact that building brand awareness and visibility online can quickly boost sales both online and offline. For small businesses in particular one of the best ways to get noticed and gain an advantage over competitors is to rank on Google – or more specifically, in local search. As a result, a number of businesses are turning to digital marketing agencies like Priority Pixels for professional local SEO services.
Two decades ago, the idea of promoting a business online was but a twinkle in the eyes of tech entrepreneurs everywhere. Fast forward to today's fast-paced digital climate and businesses without a presence online, including on search engines and social media, are being lost in the rate race as the internet continues to establish precedence in the lives of… well, everyone.
If you want to be more visible to local consumers online, you'll need to get to grips with local search engine optimisation. Also known as local SEO, large and small businesses alike stand to gain from improving their local search presence.
So what is local SEO? And why it is a crucial component of local search?
What is local SEO?
Local SEO is the practice of adapting SEO tactics and methods in order to specifically reach an audience local to your business. It can assist both brick-and-mortar stores and e-commerce businesses alike by enhancing a website's accessibility and visibility to a particular geographic area.
Put simply, local SEO is basically search engine optimisation on a smaller scale. It targets a small subset of geographical customers local to your business – hence the name, local SEO. Before the rise of smartphones and tablets, the use of local SEO and local search was accessible yet heavily restricted as a result of our reliance on stationary desktop computers. This has changed with the advent of portable devices and mobile internet. Today, local SEO has become essential for any business that provides local goods and/or services to a particular geographic area and is particularly useful for small businesses serving local clientele.
Google and local ranking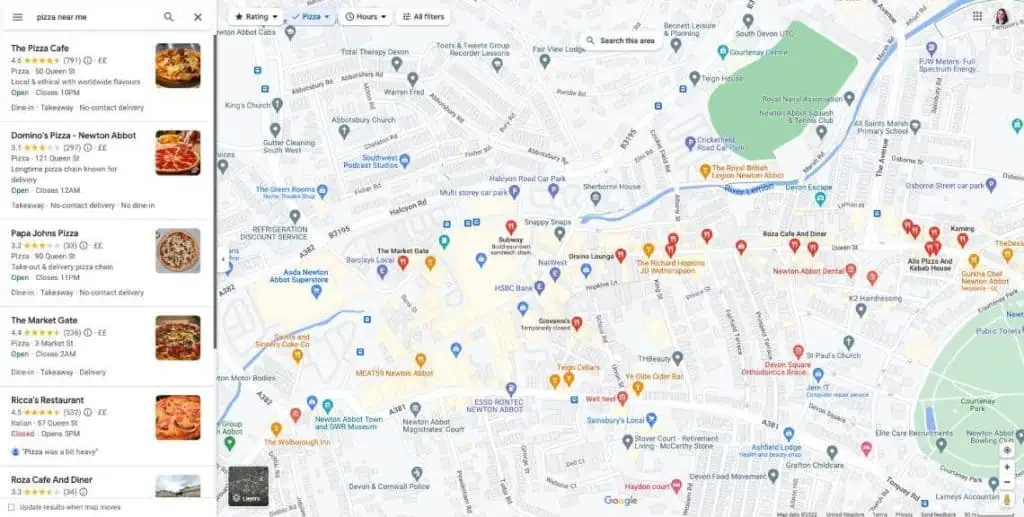 Google may closely guard its patented search algorithms. However, the platform is far more transparent about what it takes to rank in local results. The three main categories of local ranking factors, according to Google, are:
Relevance – How well your local Business Profile matches what a user is searching for including keywords and location
Distance – How far each potential search result is from the location of the user and/or location term utilised in their search query
Prominence – How well-known Google judges your business to be
For example, if Priority Pixels were celebrating a birthday, one of our directors might decide to treat our team and type pizza delivery or pizza near me into Google. If we're celebrating at work and want to get a pizza delivered to Priority Pixels HQ in Newton Abbot, searching for pizza delivery or pizza near me would show a list of locations near our office in local search. However, later that evening our web developer Danni might decide she can't be bothered cooking and goes to order a takeaway online. Believe it or not, the same search at Danni's flat a few miles away would yield an entirely different set of results.
Why is local SEO important?
Local SEO is important because it presents large and small businesses alike with the opportunity to both attract local customers and appear directly in front of motivated searchers. Did you know…
Benefits of Local SEO
Increased Visibility: Local SEO ensures your business is visible to potential customers at the moment they are actively searching for products or services you offer.
Targeted Traffic: Local SEO drives highly targeted traffic to your website, as you're focusing on users who are most likely to convert into customers.
Foot Traffic to Physical Stores: For businesses with a physical presence, local SEO can lead to increased foot traffic and in-store purchases.
Building Trust: A well-optimized Google My Business profile with positive reviews establishes trust and credibility among local customers.
Cost-Effective Marketing: Local SEO offers a high return on investment compared to traditional advertising methods.
Local SEO services at Priority Pixels
If you're overwhelmed by local SEO, there's no need to fret. At Priority Pixels, our expert SEO strategists and consultants build campaigns that can capitalise on your business's geographical location and drive your online presence forward. A stronger presence online means a stronger local presence, as well as more website traffic, more leads and conversions, a better bounce rate and a more cohesive, compelling digital marketing strategy.
Cohesive, collaborative and approachable, the local SEO services at Priority Pixels are complemented by technical support from our team of talented web developers, the creative minds of our multidisciplinary content creators and end-to-end accountability from our expert project managers.
FAQs
What is local SEO?
As the name suggests, Local SEO is the process of modifying SEO strategies to reach an audience close to a specific location. Local SEO services assist both brick-and-mortar stores and online businesses alike by increasing the accessibility and visibility of a website to both existing and potential customers in a specific geographical area.
What are local SEO services?
Local SEO services are a set of processes implemented by an SEO strategist and/or digital marketing agency. Local SEO services are most often implemented with the goal of reaching a local audience close to a business.
Local SEO should be implemented in conjunction with bigger SEO initiatives and other digital marketing campaigns for the purpose of reaching target audiences in various markets, geographic locations and/or stages of the sales process.
Local SEO Services at Priority Pixels
Local SEO services most often include:
Setting up and optimising a Google My Business listing
Configuration of Google Analytics
Assessment of your existing SEO with an SEO audit
Managing and building local citations
Developing regional links
Local keyword research to draw your target audience in with a regional focus
Brand tracking
Reputation control and management
Content creation with a localised focus
Metadata analysis and optimisation
Targeted link building
Verification of NAP (name, address, and phone number).
More customer reviews
Mobile and tablet optimisation
Structured data markup
Optimised business directory listings
Advertisements on Google Maps
Publishing with Google Posts.
On-page optimisation and improvement
How much does local SEO cost?
The cost of your local SEO services will depend on the exact services you require as well as the unique specifics of your business. For an accurate quote, you might like to consider approaching a professional digital marketing agency.
Let's chat
For more information about local SEO services at Priority Pixels, get in touch with our team at hello@prioritypixels.co.uk or call us on 01626 245061.
I'm looking for the best local SEO services near me, can you help?
Of course we can! We've been assisting large and small businesses alike with their search engine optimisation since 2016 – and we'd be delighted to assist you. Our local SEO services are designed, developed and implemented by our talented team of web developers, content creators and project managers.
For more information about local SEO services at Priority Pixels, get in touch with our team at hello@prioritypixels.co.uk or call us on 01626 245061.