Celebrating 20 Years of WordPress
---
---
Reading Time: 3 minutes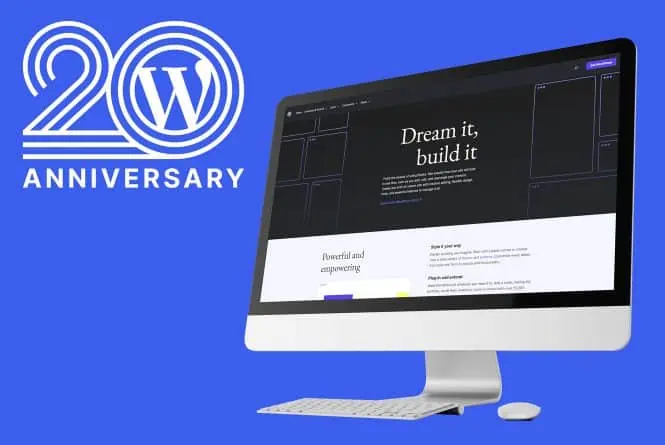 Trends, technologies and software stacks have come and gone since WordPress was first launched in 2003. While the platform has evolved over the years, both marketers and businesses alike from around the globe continue to rely on WordPress for its heightened accessibility, innovative functionality and of course, the platform's ease of use.
Where would Priority Pixels be without WordPress? Over the past two decades, we've watched the platform thrive, flourish and grow from modest beginnings into one of the world's leading content management systems. Today, WordPress web design powers 43% of the internet, with a market share of 63.4%.
As WordPress celebrates its 20th birthday, the team at Priority Pixels are looking back at the platform that transformed the web.
May 27, 2023, marks exactly 20 years since b2/cafelog was forked to create WordPress Version 0.70. Quite a bit has taken place in the past 20 years, and imagine how much more we can accomplish together in the next 20! #WP20

— WordPress (@WordPress) May 27, 2023
The evolution of WordPress
WordPress was launched in 2003 by Mike Little and Matt Mullenweg. Debuting with Texturize, XHTML 1.1, manual excerpts and a new administration interface, the platform was essentially a blogging tool. At the time, there was a need for an online personal publishing system – WordPress filled that niche.
Just two years later, WordPress would introduce themes and plugins. This made it easier for users to tailor their websites to their brand without the need for extensive coding knowledge. Cut to 2007 and the platform would release an autosaving feature, a built-in spell check and an innovative blog post revision system. This was the beginning of WordPress' transformation from a blogging website to a content management king.
The Age of Gutenberg
In 2018, WordPress released version 5.0 and the Gutenberg editor – a block-based editor.
Since its release, Gutenberg has become an integral part of WordPress. It's arrival helped to democratise the web by giving more users the power to create and share their own content. With an intuitive interface and user-friendly features, anyone can use WordPress to promote themselves online – and that's largely down to the advent of Gutenberg as well as the platform's commitment to open-source software.
Commitment to open-source software
Over the years, WordPress has remained dedicated to remaining open-source. This means that anyone can access the code and utilise it in whatever way they'd like – as long as they follow the licensing guidelines. As a result, WordPress has fostered a huge community of developers, designers, bloggers, scientists and WordPress enthusiasts since it was first launched. This community continues to contribute to the platform's growth and improvement and is a huge part of the WordPress brand.
As well as helping the platform stay relevant and up-to-date through regular improvements and contributions, the WordPress community also organises regular meetups, WordCamps and other events aiming to bring users together. This culture of sharing knowledge and ideas has helped keep WordPress alive over the years and is one of the main reasons the platform remains such an enduring and popular corner of the internet.
Celebrating WordPress with Priority Pixels
Since 2003, WordPress has only grown in popularity – and it's not hard to see why. The platform is user-friendly, innovative and perhaps most important, supported by an incredible online community.
From virtual meetups to special promotions and discounts, WordPress will be celebrating all through the month of May to commemorate its anniversary – and after twenty years on the internet, we'd say it's about time they give themselves a pat on the back. From long-time users to first-timers, now is a great time to get involved with the platform and show your support.