50 Best Estate Agency Websites of 2023
---
---
Reading Time: 1 minute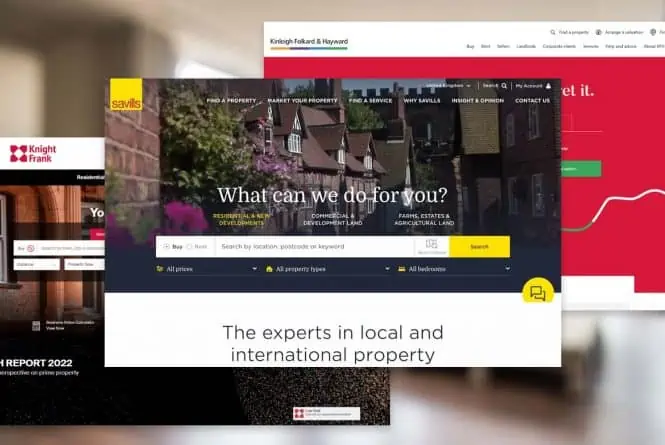 FAQs
What should be included on an estate agency website?
Top tips for your agency website
The website for an estate agency needs to be functioning smoothly with beautiful, crisp imagery displaying their services through a dedicated portfolio. A premier user experience should be at the forefront of your website design.
Online tools should also be included depending on the services the agency offers, such as property search facility, online valuation tool, mortgage calculator, stamp duty calculator, online registration form or a viewing booking facility can enhance user experience and drive sales.
How do I make my own estate agency website?
While drag and drop websites that allow you to easily build your own website may seem enticing, the reality is web design and development is a lot more complicated than simply updating some images and calling it a day.
Do I need a digital marketing agency to build my website?
There is a lot of work that goes on behind the scenes of website development that can make or break the success of your site. The team at Priority always recommends talking to a professional digital marketing agency before making any big decisions on your site.
Who makes the best estate agency websites?
Priority Pixels has been building websites for estate agencies since 2016. Our team has worked with a number of estate agencies in the Southwest, boasting a wealth of experience and knowledge from web development to social media and copywriting. We can help you design and launch a web presence that is completely unique to your agency.
How much does an estate agency website cost?
A fully functioning website for an estate agency built by a digital marketing team at an agency such as Priority Pixels can cost anywhere between £5,000 to £50,000, depending on the unique specifications of your website.
Let's chat
If you're in need of a website design, it's best to contact the team at Priority Pixels for an accurate quote that will take your budget, services, and goals into account.