5 Reasons Your Business Needs A WordPress Website
---
---
Reading Time: 5 minutes
WordPress has been around for a while now.
Launched on 27th May 2003 by its founders, Matt Mullenweg and Mike Little it has grown to be the largest self-hosted content management system in the world; used on millions of websites and seen by tens of millions of people every day.
According to the latest statistics, WordPress is used by 58.7% of all websites that use a content management system and 27.5% of the top 10 million websites.
That is a staggering figure and should in itself tell you how far WordPress has come since it's humble beginnings.
What makes WordPress great is that since it's launch in 2003 it still remains open source, or in other words… free.
So whether you are a casual blogger or a large corporation there is no license fee or costly monthly subscription to pay.
So why you use WordPress for your business website?
1. WordPress is a great Publishing Platform
At its core WordPress is a publishing tool.
It started out as a blogging platform but has grown to be so much more than that.
Even if you're not a competent computer user, once your website is built (and as long as it's built correctly) you can publish a new WordPress post or page with ease.
This has several benefits for your business.
If you need to let your customers know about a new product launch or a new service line then publishing a news article on your website is a great way to get this information out there.
You can then use social media and email marketing to promote the news article and help drive traffic to your website.
You can do all this without the need of a web developer, you are only limited by your own imagination and how much you can write.
The more posts you publish the bigger your website gets, the bigger your exposure gets and your SEO efforts will also be rewarded.
2. WordPress Plugins
At the time of writing the WordPress plugin library has 50,705 plugins available.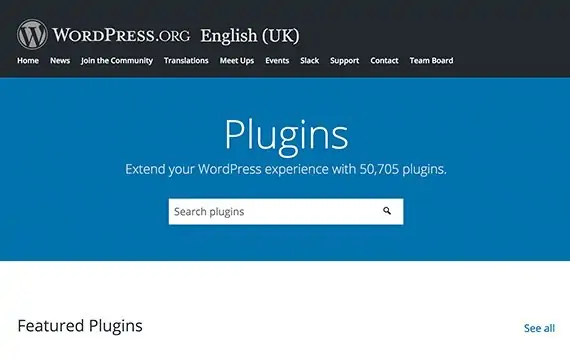 If there is a feature you need for your website chances are somebody somewhere has already had the same idea and developed a plugin for it.
This means you can save on costly development time by selecting a plugin that does what you need without having to develop something from scratch.
As WordPress is an open source community, plugins can be contributed by anyone.
This means some are very good and some are very poor as naturally some are built by better WordPress developers than others.
When plugins are downloaded the download count is added to the plugins WordPress page along with any reviews that have been added from people that have already downloaded and installed it.
The number of downloads and the reviews are an indication of how good (or how bad) the plugin is.
There are numerous things that can be achieved with WordPress plugins.
From adding basic functionality to your website, such as adding a testimonials or FAQ page right up to advanced plugins that allow you to add e-commerce functionality to an online shop, a job board plugin for a recruitment company or even advanced SEO tools to help get your website to the top of Google.
The majority of WordPress plugins are free.
Many of the more advanced plugins come with some form of license fee, either a one off cost, a monthly subscription or a method becoming more popular is the initial plugin offered for free with costs added for additional features, essential these are bolt-ons.
3. WordPress is great for SEO
Google has over two hundred unique identifiers used to rank your website within it's search results.
One of these is whether your website uses a content management system and more importantly whether you use a good one.
Google is all about serving relevant content to those that search for it, and because WordPress is a publishing platform it carries that extra bit of weight over other content management systems.
The fact WordPress has been around a while and is so popular also helps.
Not only that, but WordPress has a plethora of SEO plugins available.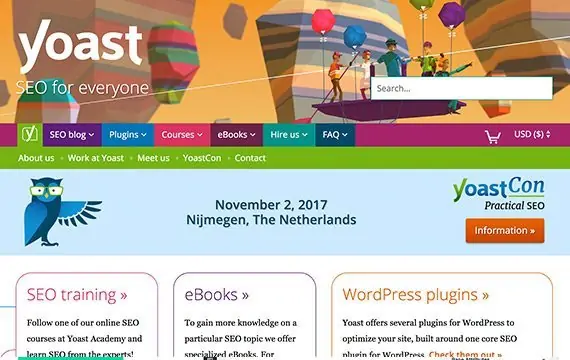 One of the more popular plugins is Yoast which allows you to add meta titles and descriptions to your pages as well as other key features such as creating XML sitemaps which can be submitted to Google Search Console.
There are other plugins which allow you to manage other SEO tasks, such as setting up Google Analytics or 301 redirects but these aren't strictly necessary if your web developer has done their job correctly in the first place. Adding plugins does add extra scripts and weight to your site, so it's important they aren't over used and certainly shouldn't be used to compensate for shoddy web development.
4. A First Class Content Management System
WordPress is a content management system, otherwise known as a CMS.
This means the websites content can be managed from an admin area meaning users with little or no web design experience can still update and manage a website with relative ease.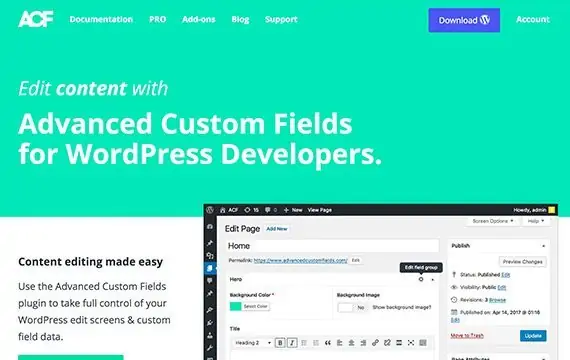 Advanced Custom Fields is a plugin used by web developers to add additional functionality to the WordPress admin area.
Out of the box, WordPress is very user friendly but can be limited when it comes to providing business owners with a site that's easy to update.
WordPress posts and pages have a content area that page content can be added to. In many cases this requires a level of HTML knowledge that most users don't have.
With Advanced Custom Fields web developers can customise the admin area, adding additional content areas, gallery controls, product boxes, you name it, it can be added to make updating your WordPress site a breeze.
5. No limitations
With WordPress there are no limitations to what can be achieved. At it's most basic, WordPress is used as a blogging tool and at its most advanced for large e-commerce shops, recruitment websites, estate agent sites, online directories, the list really is endless.
A well designed and developed WordPress site will do wonders for your business. Even if you provide the best product in the world, you will be losing business if your websites isn't up to scratch. A poor design or layout can easily put a customer off so it is of utmost importance if you are going to do the job at all that you do it properly.