40 Best Halloween Websites of 2023
---
---
Reading Time: 3 minutes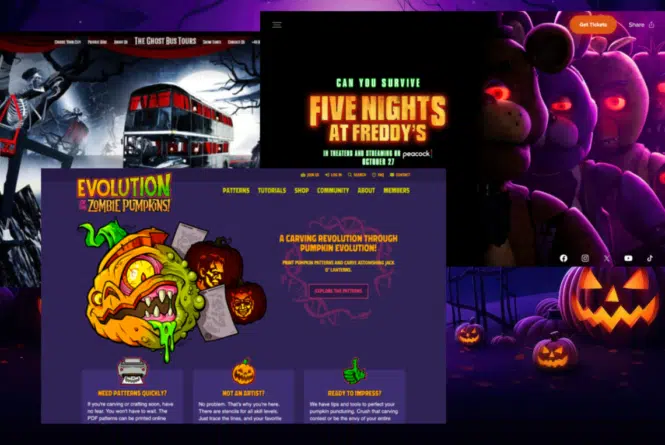 FAQs
What makes a great Halloween website?
From frightening fonts to spooky music, a great Halloween website is all about atmosphere.
How you decide to style your website will come down to who your target audience is and what you are hoping to achieve with your digital marketing.
You could customise your theme to include classic spooky elements like ghosts and ghouls, or for a more serious vibe add a bit of ominous music. Dark colours and themes are also incredibly popular for Halloween, but for a lighter child-friendly vibe, cartoons and funky music like The Monster Mash are always an absolute must.
How much does a Halloween website cost?
The cost of your website will come down to the specific needs of you and your business or organisation. Do you run a business that specifically sells Halloween decorations, or are you a local bakery wanting to get in the Samhain spirit?
For an exact quote, it's best to contact your local digital marketing agency. They'll be able to talk you through your exact specifications and give you a quote based on what you need.
Can I build my Halloween website with drag and drop software?
You could use drag and drop software and plugins to build your website. However, while it may seem like the easier (and cheaper) option, using drag and drop software can create a multitude of issues for you and your website. From slow loading speeds to a lack of SEO, if you want a site that actually works it may be best to contact the professionals.
Designing your own website without specialist knowledge and expertise can risk your business or organisation being buried on search engines. Outsourcing the management of your website to a professional digital marketing agency will result in a practical, functioning website that ranks and gets traffic.
Who makes the best Halloween websites?
Let's creep it real, Priority Pixels has been designing boo-tiful websites and bespoke digital marketing strategies for our clients across the South West since 2016. Our team of ghosts and ghouls may shy away from the sun, but we do boast a wealth of digital expertise and knowledge – and we're always happy to help.
If you need help with your digital marketing strategy, then we've got you covered – just don't feed our web developers after midnight. Contact us today.