Interactive New Landing Page for GMT
---
---
Reading Time: 1 minute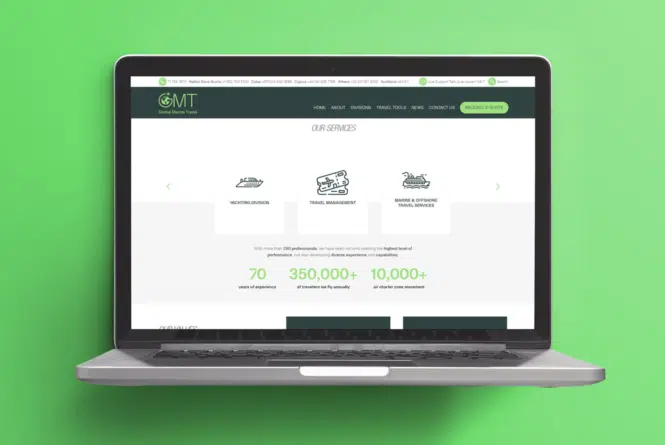 We've been busy lately at Priority Pixels. Our team of web developers have been working closely with GMT to design an interactive landing page built around the GMT brand. Global Marine Travel was founded in 2001 and then partnered with ARGO Marine Travel in 2020 and took over completely as GMT Greece in 2023. The company needed a new GMT Greece landing page, directing users from the old ARGO Marine Travel site to the new GMT Greece site.
Global Marine Travel is a leading global maritime travel management company, providing expertise to customers in the marine industry, including commercial shipping, cruise lines, and superyachts. As a full-service maritime travel agency, its team of professionals are available 24/7. With specialised airfares, state of the art technology, and years of experience with airline schedules, GMT offers an excellent service to its valued clients. GMT transports up to 300,000 seafarers across the globe every year, providing them with efficient travel management services.
Our team of creative graphic designers and web developers built a landing page, redirecting the old ARGO Marine Travel site to the new GMT site. The new landing page fits with the existing GMT brand, with video content in the hero section, interactive service cards on the page, sliders, and optimised images. Improving UX and UI design means users can easily navigate the services on offer and see the information they require clearly. An ARGO/GMT timeline graphics makes it easy for users to learn about the history of the company and how it has developed.
It has been great working with GMT and helping the company enhance its website. If you are looking for an upgraded website, or a new website entirely, Priority Pixels can help. For more information on our graphic design and web development services, call our team today on 01626 245061 or send us an email at hello@prioritypixels.co.uk.