What is a Sitemap and Why is it Important?
---
---
Reading Time: 3 minutes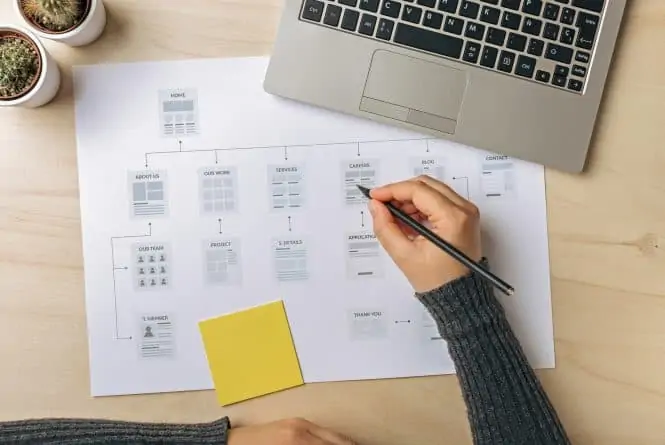 If you're new to digital marketing and web design, you may be asking yourself, what is a sitemap? Although the concept can seem confusing, having a sitemap is an inherently crucial part of your website development.
In simple terms, a sitemap lays out the hierarchy of a website. It also maps your user journey. However, the main purpose of your map is to communicate your layout to search engines. In fact, our very own web developer Danni Webber described the concept of a sitemap as an "address book for Google."
Commonly presented in an easily readable format that lists your URLs, a sitemap tells search engines which webpages are the most important on your site. Although it's not an absolute necessity, uploading your file to Google Search Console can get your site indexed and ranking quicker. This is especially pertinent for new websites that only recently went live.
What is the most common type of sitemap?
An XML file is the most common type of sitemap. Essentially, it's a list of your website's URLs – but in reality, it's so much more than that. Acting as a roadmap of your website, an XML file can be good for search engine optimisation (SEO). The file essentially points search engines such as Google to the most important pages on your website. XML files are especially useful for large websites that may have archives or use media-rich content with videos and images.
Say, for example, a window installation company laid out the sitemap for their website. Chances are their parent pages would be services outlining what they offer their customers, such as commercial windows or domestic windows. A visitor to the website would expect a list of services when they click on either page or maybe a drop-down menu listing the child pages. The child pages would be different windows the business offers, such as uPVC sash windows or aluminium casement windows. The file itself would be a list of URLs listing the window company's most important web pages.
Are there any other type of sitemaps?
As well as XML sitemap there are also HTML sitemaps. This is a human-readable webpage that lists all the important pages and sections of a website in a user-friendly format. HTML sitemaps are designed to help website visitors quickly locate the content they are looking for. Unlike XML sitemaps, which are primarily for search engines, HTML sitemaps are more oriented toward improving user experience.
Do I need a sitemap?
If the pages on your website are properly linked, then search engines such as Google can usually discover most of your site regardless of whether or not you have a sitemap. Linking your pages properly will also mean a user can easily navigate between them. This will either be through your site menu or strategically placed links within the pages themselves.
Although it's not an absolute necessity, we would recommend getting a sitemap. You may want to create one manually, although you will find it a time-consuming task. There is plenty of software that will automatically generate one for you.
If you use WordPress for example, plugins such as Yoast SEO will generate your sitemap for you in an easily accessible XML file. Once a website is built, web developers will often submit the accompanying XML file to Google Search Console. Alerting Google to the presence of a new website can quicken the indexing process and get your website ranking in the search engine results page (SERPs) quicker.
Web development at Priority Pixels
Sitemaps remain incredibly important for the search engine optimisation of your website. Although it can be overwhelming at first, a sitemap is crucial for larger websites such as online e-commerce stores. A sitemap can also assist brand new sites that may not have enough backlinks yet. As our own web designer so eloquently put it, it's essentially an "address book" for search engines.
If you are still scratching your head and asking yourself what is a sitemap, you could always get in touch with the team at Priority Pixels. We understand the concept of a sitemap can be a daunting prospect, and you may be needing additional support. The good news is we've been designing and developing websites for clients since 2016. From humble beginnings, our team has grown to a tight-knit family of web designers, SEO specialists and content creators who boast a wealth of expertise and knowledge.
FAQs
What is a sitemap?
A sitemap is an "address book" for Google, the main purpose being to communicate the most important pages of your website to search engines such as Google.
Do I need a sitemap?
Having a sitemap is especially important for larger websites. Sites with poor internal linking or new sites without a lot of backlinks should also have a sitemap.
What is an XML file?
An XML file is the common type of sitemap. In simple terms, it is a list of your website URLs.
The main purpose of an XML file is to allow search engines to easily find, crawl and index your site. Professional web developers will often upload an XML file to Google Search Console, so the search engine can easily find a new site that has just gone live and index it quickly.