Simple on-page SEO checklist
---
---
Reading Time: 6 minutes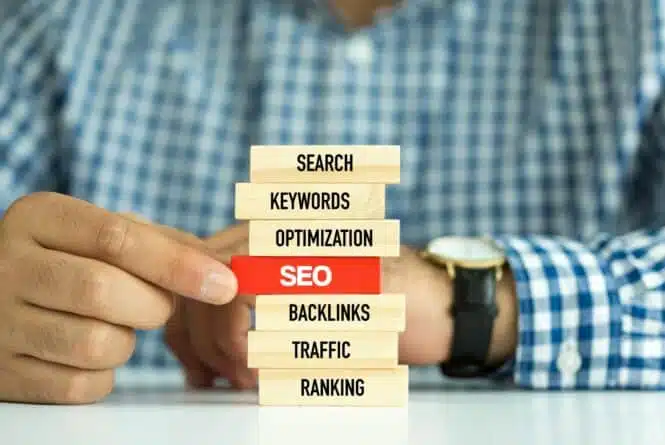 Search engine optimisation (SEO) is extremely important for your business's success. Your website needs to be appearing at the top of search engines, such as Google, for people to see your content. However, if you're not hitting SEO standards it's unlikely you will get the results you're after. Having an SEO checklist to hand will help you include different optimisation features. When writing content for the web it's important to remember that you're not just writing for people, your writing also needs to be understood by search engines.
SEO is easy to forget when your creative juices are flowing, you just want to write. That's why we have created this SEO checklist. We will be talking about some of the key areas to focus on when writing online content.
It's important to keep in mind that anything you're writing for the web should serve as a solution to something, answer a question, or educate.
Focus on a keyword when writing
Before you begin writing any content for the internet, it's important to identify a keyword that your content revolves around. This is important for appearing highly in any search engine results page (SERP). This is because it is what people will be typing into Google's search engine to find content on a specific topic.
Let's say you have a blog where you share food recipes. You might be writing a post demonstrating how to make a pepperoni pizza from scratch. You're focused keyword or phrase will be 'pepperoni pizza recipe'.
It's a good idea to research what people are searching for in search engines. People who want to make their own pepperoni pizza will likely search for 'pepperoni pizza recipes' in Google. Researching a keyword or phrase prior to writing will do wonders for your SEO.
When writing your content you'll need to use the term often throughout the text. However, it's important to not overdo it for the sake of getting your keyword in there as many times as possible. Search engines will recognise you are trying to manipulate their ranking system and ultimately rank you lower. This is known as keyword stuffing. It may take a bit of practice, but soon enough implementing your keyword into your text will come naturally.
H1 Tag
Headers are extremely important for helping search engines understand what your content is about and its structure. The H1 is also known as heading 1. This is the title of your page or blog post and you will only ever want to use one. Using more than one can confuse SERP algorithms and, as a result, damage your SEO ranking. It's likely that your content management system (CMS) will automatically recognise your title as the H1 and format it for you.
H2 Tags
H2 tags are subheadings within the main body of your text. They help break up your content into sections, making it easier for your viewers to read and understand. As Google wants to push content that is easy for people to read and navigate, it is good practice you use H2s regularly. SEO plugins such as Yoast will prompt you to split a block of text with a subheader which is over 300 words in length.
Depending on your keywords it might be worth including it in some of your subheadings. But as a reminder to use them sparingly, not in an attempt to manipulate a search engine ranking system.
Include meta titles
Including meta titles is important for your SEO as they provide a brief summary of your content. They will commonly appear in three places; web browsers, in SERPs, and on external sites such as social media. Aim to keep your meta titles relevant to the content of the pages and even include your keyword if possible. Your meta title should almost mirror your H1 tag.
It's likely that your CMS will have a tool for you to place these with ease. However if not they are set in this format; title tag in the head in the HTML of your page.
Meta Description
The meta description is a short summary of the content found on your page or blog post. You should try to include your keywords or phrase, although it doesn't directly affect your ranking in search engines. However, keywords appear as bold in SERPs which will help you stand out amongst the crowd.
If you're using a CMS there will likely be a simple way to input this without, much or any, coding. If this isn't available you will have to do this manually. The code for the meta description will look slightly like this;

<head>

<meta name="description" content="Add your meta description here, keep it short and to the point. Make sure it's no longer than 160 characters">

</head>

Your websites URLs
You will want to ensure the URLs across all your websites pages are set up for SEO success. You should avoid using 'stop words' such as 'the' and 'and' as search engines ignore these words. As a result, your URLs will be short and easy to read for both humans and search engines. When possible, try to include your keyword for each individual page in the URL.
Internal Linking
Your written content on your website, specifically your blog posts and articles, should link to other places on your website. These links should be of more importance than the page they're linking from. The idea of link building is to put in place a hierarchy on your site which helps search engines understand the structure of your website. When you start providing internal links on your less valuable pages to more important ones, it gives them a higher value. As a result, boosting their chances of appearing higher in SERPs.
Create engaging call to actions
A call to action is a great way to encourage a visitor to your site to do something, such as view another page on your website. It also reduces the chances of them leaving your site. A call to action (CTA) will be different depending on your needs or objectives. You might want them to sign up for your newsletter or follow you on social media.
Ensure its easy to understand
Ensuring your text is easy to read and understand is a key part of getting more visitors. Even though one of your aims is to improve your SEO, remember you are writing for humans. Your audience wants to read something that is structured and isn't stuffed with keywords. There was a time where readability did not matter, however technology has improved drastically. As a result search engines are much better at detecting content that will be good and beneficial for people.
Another key reason why your content should read well is due to the fact that voice search is extremely popular. As a result of its popularity, it will only be further developed and improved. There's no time better than now to start writing your content in a way that reads well out loud.
Final Thoughts
SEO is a competitive game. And although there's much more that can go into improving your ranking in search results, the key areas mentioned in this SEO checklist are a great place to start. SEO will take ongoing work and research but it is the difference between your website being found on search engines and not.
Find Out More
If you'd like more information about how Priority Pixels can help with your Search Engine Optimisation, contact us today! Email us on hello@prioritypixels.co.uk, or call our team on 01626 245061.