How to Create a YouTube Channel
---
---
Reading Time: 7 minutes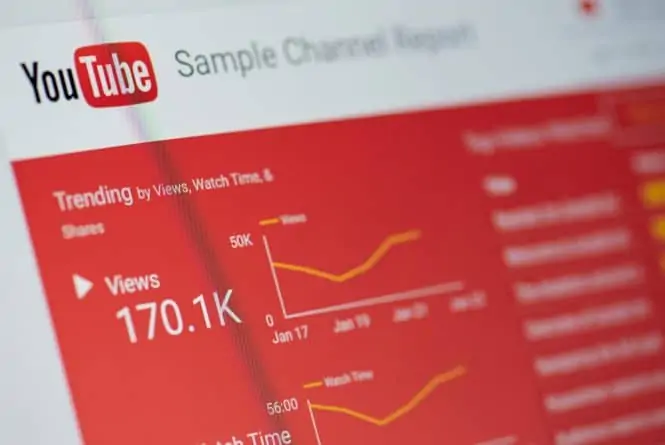 So your brand is looking to get online and expand your digital presence eh? Photographs and blogging may seem like the easy way out when it comes to creating content. However, creating a YouTube channel and uploading brand-centric videos is a surefire way to boost your brand awareness and visibility online. But how does one even create a YouTube Channel? And what even is YouTube anyway?
What is YouTube?
First launched in 2005, the American online video sharing giant known as YouTube started as a small video streaming platform where users could upload small clips of… well, just about whatever they liked. More than a decade later and the platform is the second most visited site after Google with more than a billion monthly users – that's almost a third of all people using the internet. With more than 500 hours of video footage uploaded every minute and one billion hours watched per day, it's safe to say YouTube continues to have an enormous social impact on digital trends and internet-centric pop culture such as memes.
What is a YouTube channel?
Your YouTube Channel is essentially an account or profile where you can create and upload video content, save footage you like and construct playlists consisting of your content and videos from other channels. Your channel has a URL you can use to share your profile on other social media platforms. Other users can also subscribe to your profile.
How do I create a YouTube channel?
Google bought YouTube in 2006, and as with all Google products, you will need a Google account to create your YouTube channel. If you already have a Google account, you will already be able to watch, share and comment on content published to the site. However, having a Google account doesn't automatically create a YouTube channel.

To create your channel, head over to YouTube and click sign-in in the top right corner of the page. You should have the option to sign in using your Google account. If you don't have a Google account, you will need to create one. To do so, simply select the option to create an account and follow the prompts.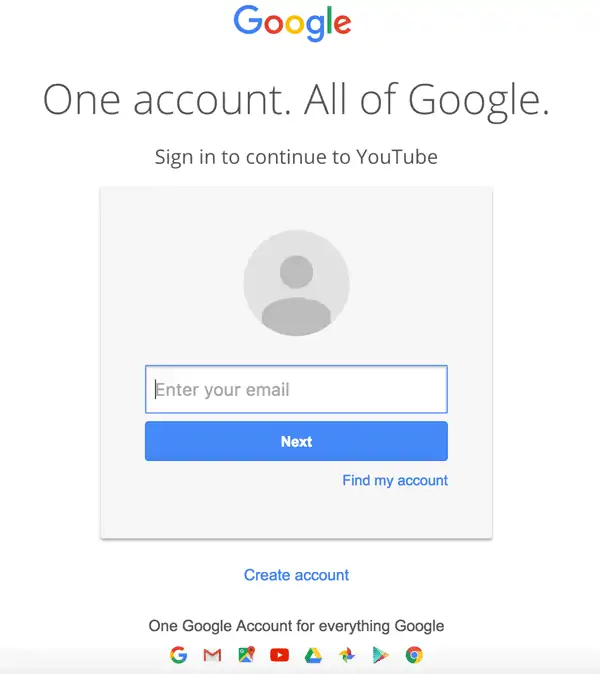 I have a Google account – now what?
Once you've signed in with your existing or new Google account, click on your profile setting in the top right-hand corner of the screen and click create a channel.
After you've clicked create a channel you'll have the option of creating a business account or personal account. If you're creating a channel for your business or organisation, we recommend clicking use custom name, which is recommended for brands and businesses.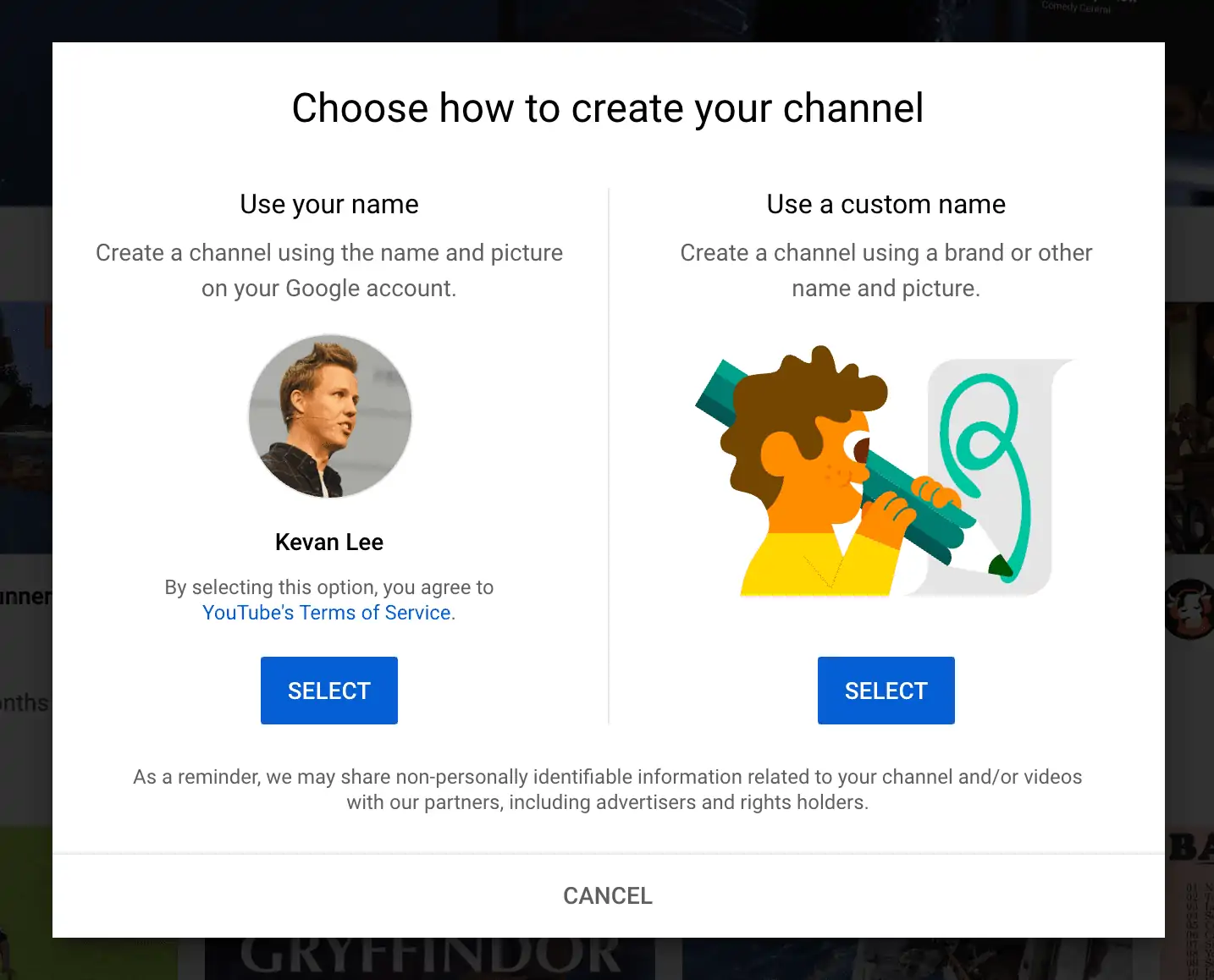 After selecting the type of channel you need, you'll be asked to name your channel. At this point, it's important to note your channel will create a new Google account with its own settings and YouTube history. This account will sit within the Google account you used to sign in with at the start of this tutorial. You can use your new account to engage with your audience on YouTube as your brand, which works to build brand visibility and awareness online.
Following this step, you will have the opportunity to further customise your channel with a profile picture and description of your channel and/or brand. You will also be able to add links to your other social platforms such as Instagram and Twitter, as well as your website or blog if you have one.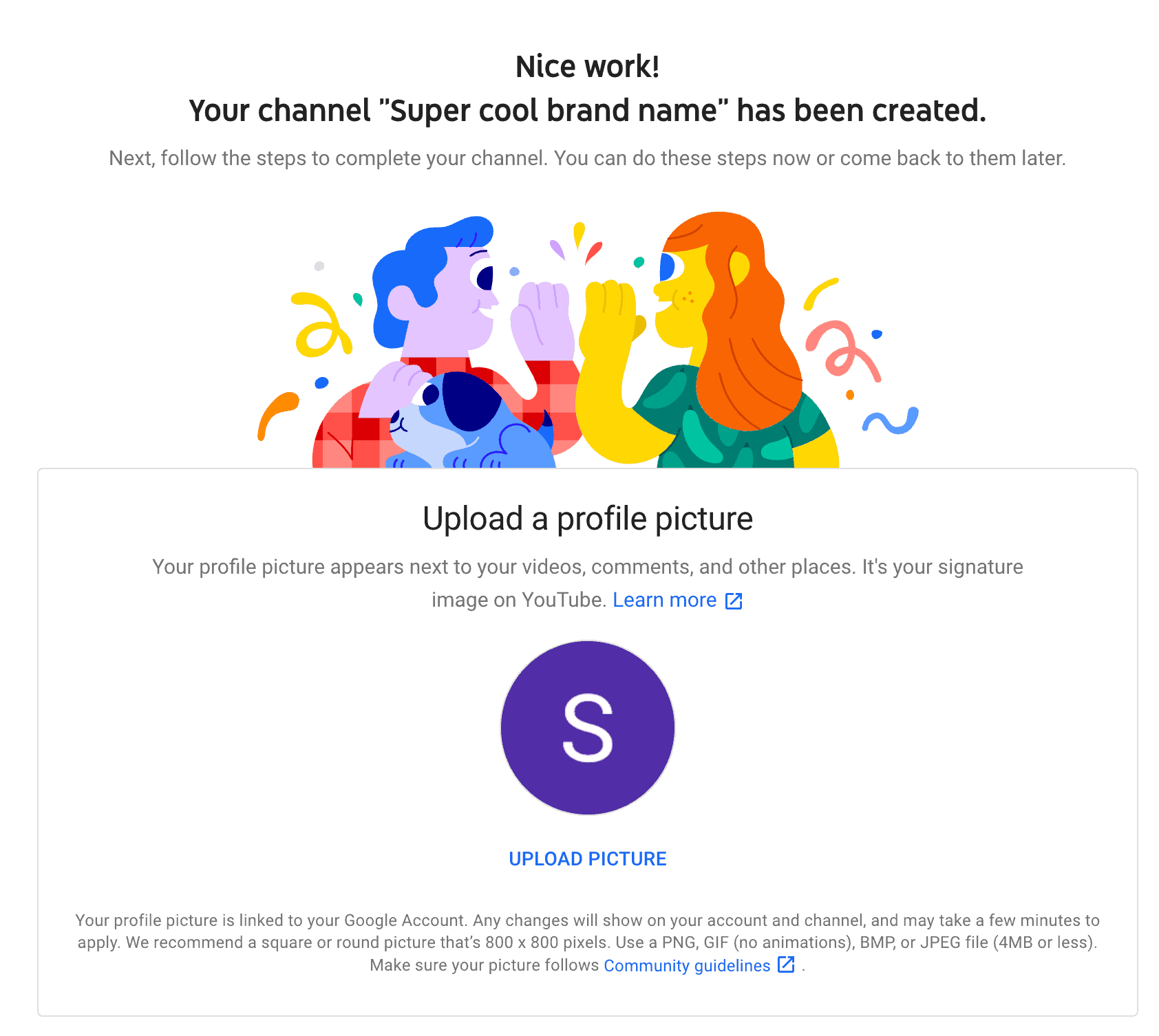 Customising your channel
Once you've created your YouTube channel, you'll have the opportunity to customise your account even further.
What is YouTube channel art?
YouTube channel art is essentially like a Facebook cover photo, and features in the prominent place on your YouTube channel – your banner. As a brand, it's vital to include YouTube channel art to your profile for the purpose of adding personality and pizazz.
How do I create YouTube channel art?
The ideal image dimensions for your new banner are 2560 x 1440 pixels. It's important to remember YouTube is a platform used across multiple devices, so avoid using a lot of smaller details. It's best to keep your banner simple yet on-brand.
The easiest way to create your banner is to use an online creative platform like Canva. Using a template, make sure your text and logo are within the 'safe area' meaning nothing will get cut off. If you're using Photoshop, the safe area is a 1546 x 423 (px) space at the centre of your design. Ensuring your branding, including any text, taglines and key imagery is within that safe space, will make sure everything is always displayed as your channel art whatever device a visitor to your channel is using.
How do I add my channel art?
So you've created a beautiful, on-brand banner – but how do you add it to your channel? To add your art, click on the customise channel button in the top right corner of your profile. Once you've clicked this button, you'll be taken to another screen that allows users to click on different parts of their channel and upload imagery. To add your channel art, click add channel art.
From there, you will be able to upload your art by simply dragging your artwork and dropping it in the pop-up window.
How do I change my channel art?
If your profile already features channel art but you'd like to change it, simply head over to your homepage and click the small pencil icon in the top right corner of your banner.
Updating your channel icon
To update your channel icon, hover over your current channel icon until you see the edit icon.
After clicking on that image, you will be able to upload a new profile icon. Your icon should be 800 x 800 pixels and in a JPEG, BMP or PNG format. You can also use a GIF format. However, it's important to remember your logo can not be animated.
Most brands opt to use their logo here.
Change or update your description
Your YouTube channel description enables brands to discuss what they're about. You will be limited to 1000 characters, but there is still plenty of room to get creative.
The copy in your channel description won't just appear on your profile. It will also be indexed by search engines. Your description will also be featured across YouTube in suggested channel categories and search results. As a result, it's important to add relevant keywords and CTAs within the opening lines of your copy. The first 100 – 150 words of your description are what will appear as a preview on YouTube. It will also appear on other social media platforms and search engines.
Adding links to your channel
You can choose up to five links that will appear in the bottom right corner of your banner. To update or add links on your channel, click customise channel on your homepage. In the upper right corner, you will see an icon that looks like a gear or machine cog. If you click on that button, a lightbox will appear. There should be an option labelled customise the layout of your channel.
Once you've enabled customisation on your channel, you should be able to go back to your homepage and click a button labelled edit links. This is located under the settings menu in the upper right corner of your banner.
From there, you will be taken to the about section of your channel. Here you'll be able to add links and choose how many are displayed.
Why should I add a channel trailer?
When visitors land on your channel, a short and sweet yet attention-grabbing channel trailer can swiftly introduce them to your content and brand and get them hooked. This trailer will only appear to users who are not yet subscribed to your channel.
If you decide to add a channel trailer, make sure you spend a little time crafting the perfect description. It appears next to your video content!
Adding your contact details
If you're using YouTube as a brand, business or content creator, make sure you include your contact details. This can be found in the about section of your channel. Once you've clicked about, scroll down to details and you'll see an option to add your email address.
Getting online at Priority Pixels
Of course, if you require assistance creating and uploading video content to your new YouTube channel, you could always get in touch with Priority Pixels. We've been fostering communities online and creating bespoke content for our multitude of clients since 2016.
From social media management to copywriting and content marketing, our digital-centric team of internet natives boast a wealth of expertise in all aspects of online marketing – and we're always happy to help. Book a call or email us today and let's get broadcasting.